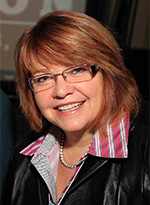 Pearl Sawyer
Executive Vice-President
This email address is being protected from spambots. You need JavaScript enabled to view it.
905-850.4581
Pearl has dedicated her life to improving the rights and livelihoods of workers across Canada.
A former packinghouse worker, Pearl served as Secretary-Treasurer of the PEI Federation of Labour before being hired by Local 1000A in 1982.
At Local 1000A, Pearl rose through the ranks, serving as Organizer, Director of Education and Research, Executive Assistant to the President and Executive Vice-President. From July 2, 2011 to April 31, 2016, she served as president of UFCW Canada Local 1000A.
Pearl is a seasoned negotiator and has led and participated in many negotiations, including being the chief negotiator for the 2007 No Frills negotiations and the trendsetting 2015 Loblaws Great Food and Superstore negotiations. She has also helped workers win rights in their workplaces, led the development of the steward training and education program and oversaw the Local's Workers' Compensation and Health & Safety programs.
In addition to being the longest serving vice-president on Ontario Federation of Labour Executive Board, Pearl is a co-chair of the Workers' Compensation, Health and Safety and Women's Committees.
She is an International Vice-President with UFCW, a role she has held since December 2013. She is a World Executive Board Member with UNI Global Union and serves as a UFCW Representative with UNI Commerce Global Steering Committee. She has been the senior pride ally advisor on UFCW OUTreach since its creation in 2013.
As Local 1006A Executive Vice-President, Pearl continues to champion the rights of all members and play a key role in overseeing a smooth merger transition. She has also taken on a new, expanded role as a leader on global solidarity initiatives.