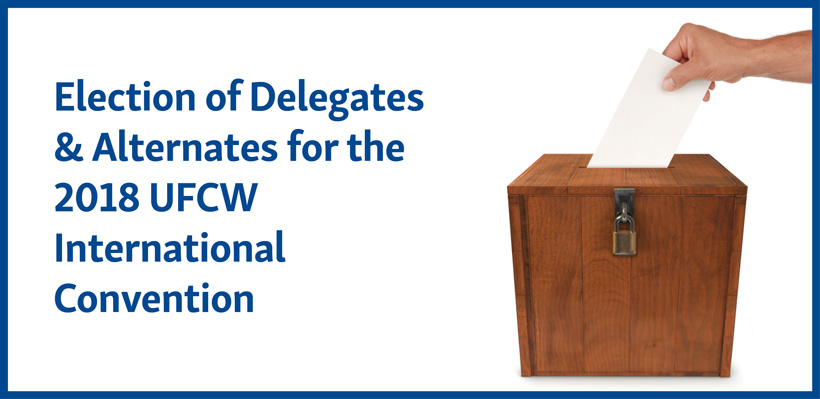 Update – UFCW International Convention – Election Results
Polls for the Local 1006A UFCW International Convention delegate & alternate election came to a close on Thursday November 30, 2017.
Thanks to all those who participated in the process.
The following have been elected as delegates and alternates to represent UFCW Canada Local 1006A at convention;
DELEGATES
Benn, Kevin
Bocangel, Maria
Brisebois, Caroline
Cabral, Maria
Di Febo, Alfredo
Docherty, Paul
Effs-Samuel, Glacier
Georgakopoulos, Adriana
Gilbert, Dan
Grey, Natasha
Hanley, Wayne
Haycock, Steve
Hill, Ray
Hurley, Anita
Jesalva, Jaime
Knowles, Gord
McDougall, Al
Meinema, Paul
Mueller-Parker, Cindy
Ragni, Frank
Sawyer, Pearl
Siwula, Kamil
Srikanthan, Thulasi
Stathopoulos, Helen
Stimpson, Tenesha
Sundar, Annie
Van Altena-Walsh, Lisa
ALTERNATES
Albert, Gord
Bailey, Susan
Brown, Gary
Brown, Rechev
Fiore, Carmine
Francis, Valrie
Gajic, Pred
Hoyes, Kallisha
Jackson, Gord
Liu, Tania
Lobo, Jonathan
Macfarlane, Carla
Maclean, John
Pereira, Ric
Prout, Nancy
Reid, Brian
Robichaud, Joshua
Vantol, Bill
PREVIOUSLY PUBLISHED
The UFCW International Convention, held every five years, will take place in Las Vegas from Monday, April 23 to Friday, April 27, 2018.
Nominations for Delegates and Alternates for the UFCW International Convention closed on October 30, 2017 at 4:00pm. The following list of members have been nominated and verified as eligibile to stand for election as a Delegate or an Alternate.
DELEGATE NOMINEES:
Barristo, Duncan
Benn, Kevin
Bocangel, Maria
Briggs, Ron
Brisebois, Caroline
Cabral, Maria
Colamartino, Leo
Di Febo, Alfredo
Docherty, Paul
Effs-Samuel, Glacier
Georgakopoulos, Adriana
Gilbert, Dan
Grey, Natasha
Hanley, Wayne
Haycock, Steve
Hill, Ray
Hurley, Anita
Jesalva, Jaime
Jordan, Rick
Knowles, Gord
McCarl, Patricia
McDougall, Al
Meinema, Paul
Moore, Sarita
Mueller-Parker, Cindy
O'Reilly, Frank
Pirie, Crystal
Ragni, Frank
Ramroop, Pramie
Reid, Linda
Richards, Sharon
Robineau, Laura-Lee
Ross, Linda
Sawyer, Pearl
Sioukas, Nick
Siwula, Kamil
Srikanthan, Thulasi
Stathoupoulos, Helen
Stimpson, Tenesha
Sundar, Annie
Thompson, Jordan
Van Altena-Walsh, Lisa
ALTERNATE NOMINEES:
Albert, Gord
Bailey, Susan
Brown, Gary
Browne, Rechev
Campbell, Cliff
Fiore, Carmine
Francis, Valrie
Gajic, Pred
Goncalves, Filipe
Grey, La Toya
Hoyes, Kallisha
Jackson, Gord
Liu, Tania
Lobo, Jonathan
MacFarlane, Carla
MacLean, John
McLeod, Paul
Pereira, Ric
Prout, Nancy
Reid, Brian
Robichaud, Joshua
Shouman, Maria
Vantol, Bill
Wesson, Jennifer
Worts, Kevin