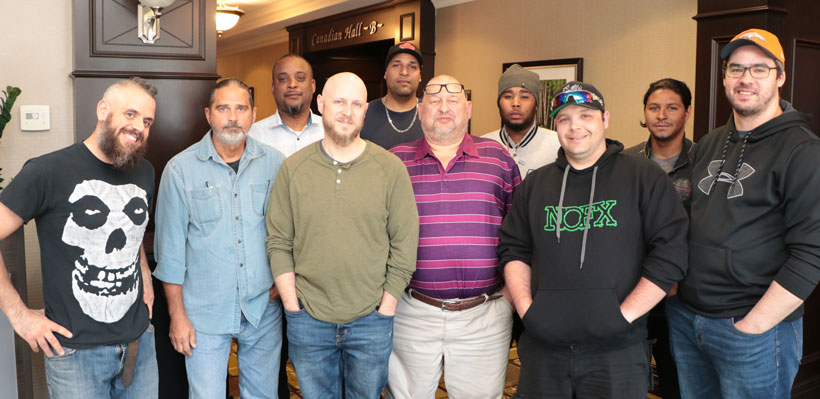 For union member Adam Nott, the newly ratified contract at Aspect Retail Logistics will make a big difference in his life.
Nott said the new language in the contract means more time with loved ones as he doesn't have to work every long weekend anymore.
"Now, there is a choice on whether I work the long weekend or not," said Nott, who is a member of the negotiating committee. "The new contract is good for me and my family."
Improvements to the overtime language were among the many key gains achieved in the union contract. Ratified on May 23, 2018, the union contract runs from January 28, 2018 to January 28, 2023.
"We bargained for past, present and future workers at Aspect so we all benefit from this new agreement," said chief steward and bargaining committee member Curtis Rodriques. "For new hires, there are significant pay increases. For senior workers, there are pay increases along with sick days and more holidays. I am very proud of what we have achieved in this contract."
Bargaining was led by Union Representative Gord Albert with support from Director (East Region) Roland Lapins and stewards, Rodriques, Nott, Craig Saffier, Jonathan Hanje, Keegan Nicholson, Kwasi Agyerman, Kyle Gleason, Michael Burger, and Romario Mccalla.
"I'm proud of our bargaining committee for their exceptional dedication and hard work during negotiations," said President Wayne Hanley. "They showed tremendous leadership and solidarity in achieving a strong and fair agreement for all our members at Aspect Retail Logistics."
The ratification meeting was attended by hundreds of members.
"I want to thank our bargaining committee and our membership for their solidarity and support throughout this whole process," said Albert.
Hanje, a steward and a member of the bargaining committee, said the contract was a fair one.
"We stuck together and we were true to solidarity and I'm proud of what we achieved," said Hanje.
Highlights
Significant wage increases over the term of the agreement (including retroactive pay)
Improvements to overtime language (overtime pay for for all hours worked in excess of 8 hours a day or 40 hours a week; mandatory overtime to be filled in reverse seniority order if insufficient volunteers for extra day overtime)
An additional fifth week of vacation for those employed for 18 years or more (up from 4 weeks previously).
Improved bereavement leave language
Increased amount for safety shoes
Increased protections through seniority
5 sick days (up from 3 paid days)
A rolling 2 week productivity number at 95% (previously it was weekly at 95% so this allows members to make up the percentage in a rolling 2 week average)
Preferred job selection by seniority within the members' function
Removal of all step 1 disciplines and reduction from an 18 month sunset clause to a 12 month sunset clause.
The company will maintain the Monday to Friday schedule for all members that are working this shift for the duration of the agreement.