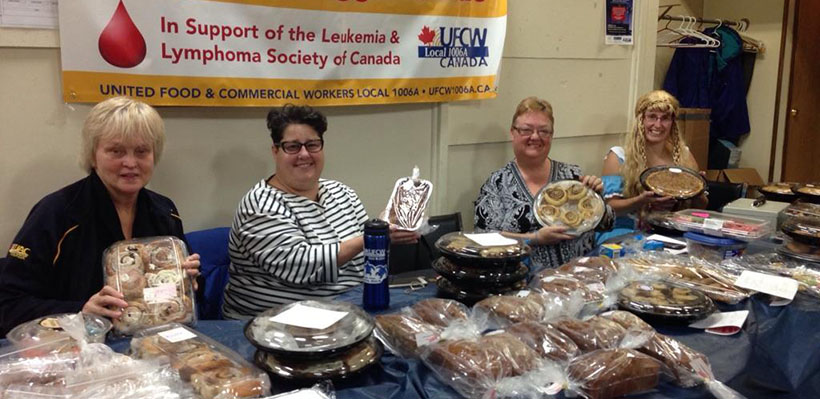 UFCW Canada Local 1006A activists and staff hosted Craft and Bake Sales in Ottawa and Smiths Falls, raising $1,000 for the Leukemia & Lymphoma Society of Canada.
Kristine Seguin, a steward from Loblaws Great Food in Ottawa, organized the Craft and Bake Sales with support from activists Caroline Brisebois, Deb Bastians, and staff Jackie Graticola, and Diana O'Brien.
"Leukemia affects a lot of people and I wanted to do my part to make a difference," said Seguin, who baked all the goods (i.e. pies, cookies, breads) for the event. "These events get the union involved in the community and lets members of the public know about the good work 1006A does."
Sequin said she was inspired to start hosting events, after the last stewards conference.
"We all have the power, within each one of us, to make our union and communities better," said President Wayne Hanley "Through initiatives like these, our members and activists are lighting the spark of hope in their communities and making a difference in the fight against Leukemia and Lymphoma. I want to thank all involved for their hard work and community members for their support and generosity."
UFCW Canada Local 1006A members continue to be at the forefront of fundraising efforts, participating in Light the Night walks, hosting yard sales, bake sales, golf tournaments, Ride for a Cure events and much more. Since the mid 1980s, UFCW Canada has raised more than $36 million for the Leukemia and Lymphoma Society of Canada.