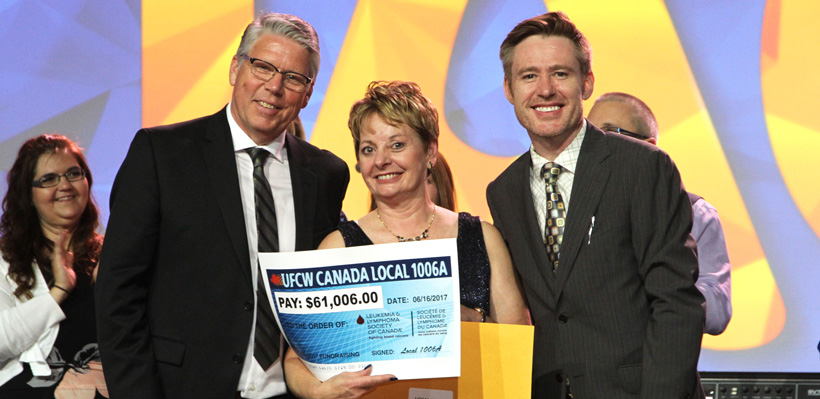 UFCW Canada Local 1006A is proud to have raised $61,006 for the Leukemia and Lymphoma Society of Canada.
Throughout the past 12 months, the local union raised money through union events and member fundraising initiatives across Ontario. This includes Light the Night events in Toronto, Ottawa and London, our annual golf tournament, the Ride for A Cure, yard sales, a dart tournament, a euchre tournament, bake and craft sales and various raffles.
"Without a doubt, UFCW Canada has been the leading fundraiser for Leukemia research in conjunction with our partners," said President Wayne Hanley. "The real leaders in this fight are the members, their families, the men, women and the children who have been affected. I am inspired by the way our members have come together to raise money for such an important cause."
The cheque for the Leukemia & Lymphoma Society of Canada was presented at the annual Leukemia Gala by Diana O'Brien, Coordinator of Leukemia Fundraising for Local 1006A.
"Our members and staff have shown tremendous generosity in doing their part to find a cure for Leukemia, Lymphoma and other blood cancers," said O'Brien.
If you have an idea for a fundraising event/community event for Leukemia research, please contact Diana O'Brien at This email address is being protected from spambots. You need JavaScript enabled to view it. or 416.529.4209.