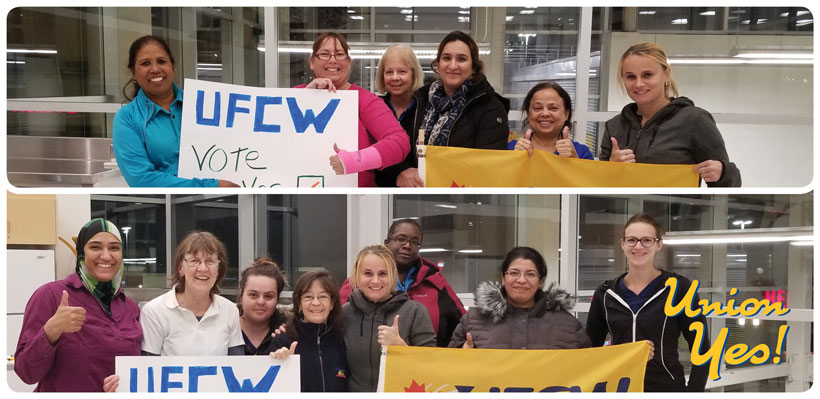 Early Childhood Educator Michaela Selecka and her co-workers are excited about what the future holds.
On November 27, workers at Peekaboo Kid Child Care in Milton (Derry Road) voted 'YES' to join UFCW Canada Local 1006A.
"As a group, we came together to make our workplace better," said Selecka, who has been with Peekaboo for over six years. "There is value in belonging to a union because now we have a voice and we can collectively bargain with our employer about things that are important to us."
The child care workers are seeking fair compensation and scheduling, WSIB coverage and respect and dignity in the workplace.
"Union representation is the key to building fairer workplaces and we look forward to working with our newest members to strengthen their rights and improve their livelihoods now and into the future," said President Wayne Hanley.
If you know anyone working in a daycare center who would benefit from union representation, please contact Lesley at This email address is being protected from spambots. You need JavaScript enabled to view it. or 647.518.3973 (text or call).
Selecka said workers knew they would have more strength bargaining collectively with the employer, versus individually.
"We knew we needed to make a positive change, so we contacted UFCW Canada Local 1006A. They took the pressure off us by sharing their knowledge and experience with us. They also dedicated their time to fighting for our rights and supported us throughout this campaign," she said.
The bargaining unit includes 26 new members who work in a variety of different roles, including Assistant Teacher, Registered Early Childhood Education and Cook Lead.
Organizing Coordinator Lesley Prince commended the workers on their unity and determination.
"This was a worker-driven campaign and we are so proud of the incredible strength and solidarity shown by the workers at Peekaboo in Milton in coming together for union representation."