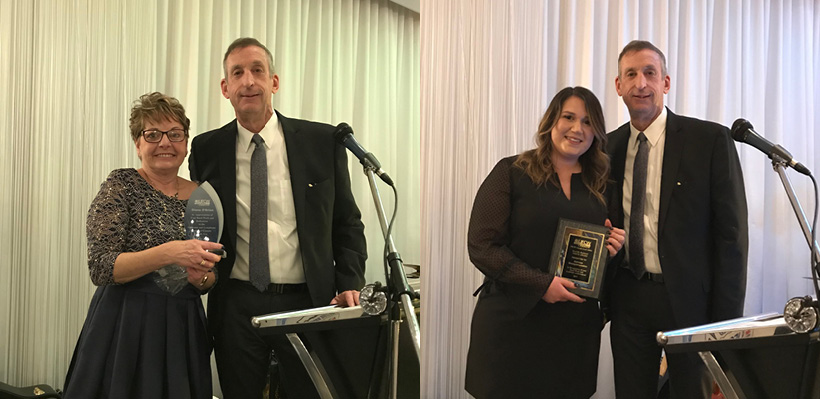 UFCW Canada Local 1006A was proud to host a year-end event in support of Sickle Cell & Leukemia & Lymphoma Research.
"With every event we hold, we are making a difference in the fight against Sickle Cell & Leukemia & Lymphoma," said President Wayne Hanley. "Many Canadians are affected by these diseases and we need everyone's help and participation in the search for cures. I want to thank everyone for coming out and supporting such a worthy cause."
Proceeds from the event went to Faces of Our Children and the Leukemia & Lymphoma Society of Canada.
In addition to raising funds for two worthwhile causes, guests at the event saw1006A Union Representative Diana O'Brien presented with an award recognizing her years of activism and dedication to raising awareness and funds for the Leukemia & Lymphoma Society of Canada. Diana has been involved with fundraising initiatives for more than a decade, and has taken an active role in mobilizing members to participate in events, like Ride for a Cure, charity golf tournament, various yard sales, and raffles.
1006A member Adriana Georgakopoulos was presented with a Youth Award, recognizing her hard work, dedication and activism on behalf of the membership. Adrianna is a member of the local union Executive Board and a graduate of the UFCW Canada Youth Internship Program.
"I would like to congratulate both recipients for showing what union value is all about", said President Hanley.
For his continued support of the annual Caribana festivities in Toronto, President Wayne Hanley was also presented with an appreiciation and participation award from the Louis Saldenah Mas Camp.
Thank you to 1006A Union Rep Winston Gordon for once again organizing the event and to the numerous sponsors for their generosity and support.
Click here for more information on our Leukemia fundraising efforts.