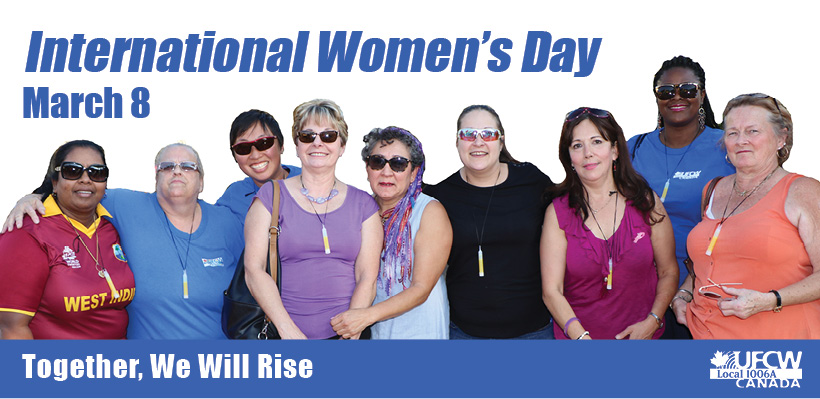 International Women's Day (IWD) is a day of empowerment and solidarity, when millions of women around the world will march for equality and human rights.
Our union is proud to be part of the movement for gender equality and will be joining tens of thousands on IWD in raising awareness and creating change.
IWD is a time to celebrate the tremendous achievements women have made to our labour movement, workplaces and communities. It is also an opportunity to raise awareness and affirm our commitment to confront the struggles women face. First observed in Europe in 1911, IWD became more popular throughout the years.
In 1977, the United Nations officially proclaimed March 8 as IWD. Four decades later, gender equality remains a distant reality for women in Canada and around the world. The Canadian government reports women face many challenges, including:
Underrepresentation of women in politics (Municipal, provincial, and federal)

Women earn 30% less than men in the workplace and are more represented in part-time precarious employment. The gender wage gap is even more pronounced among racialized and aboriginal workers.

Too few women advancing into leadership positions

High rates of gender-based violence

Greater responsibility for caregiving than men
These serious ongoing issues will not improve on their own. We, as sisters, brothers, and union members, must unite to raise awareness and overcome these struggles. When women thrive, so do families and communities.
Your voice and your participation is needed as we build fairer and more equal communities for all.
Wayne Hanley, 1006A President