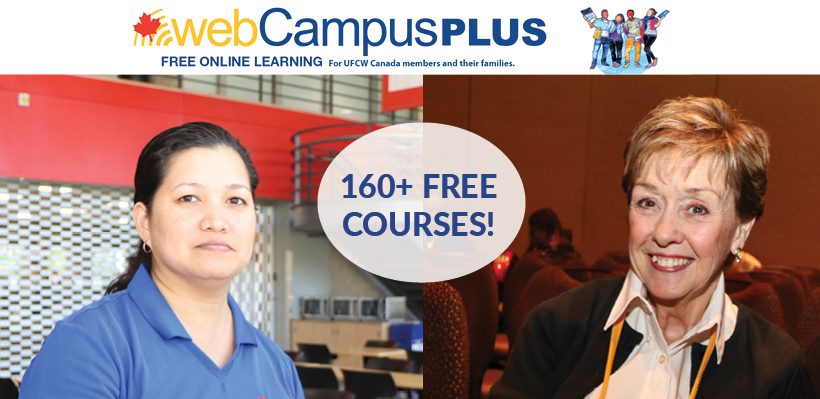 Have you taken a webCampusPLUS course yet?
Your union is offering 160 free courses for members and their family. Areas of study range from personal development, skills development, food & retail, labour studies, health & safety to computers & technology.
Union steward Nancy Prout calls webCampusPLUS a great educational tool, both on personal and work-related levels.
"webCampusPLUS is a 'win-win' collaboration to both myself and our members, just recognizing the fact that knowledge is power," said Prout, who works at a RCSS in Whitby. "I encourage our members to take full advantage of this innovative learning tool and, even more strongly, to our new members. As our society, global culture and economy change, webCampus provides us with a huge benefit to evolve with these changes as well."
The courses are highly popular with 1006A members and their families, with more than 1,100 enrolments last year. The free online learning tool has been upgraded, and now will support all tablets, smart phones, laptops, desktops, and Apple computers and devices. webCampus will also have longer course completion times.
The bulk of participants took cases in Labour Studies and Health & Safety. The courses that see the most enrolment are Pharmacy Assistant, Health & Safety Level 1, Microsoft Excel, Culinary Skills and ABCs of Computing. webCampus also has partnerships with various post-secondary institutions, ensuring participants can gain certificates or work towards a degree.
"webCampusPLUS is an exceptional resource for our members and their families, providing them with knowledge and skills to help them at work, home and in their communities," said President Wayne Hanley. "We are proud to empower our members with free education and training to help them thrive and succeed."
Maricel Westlake, who works at Aramark at Seneca at York, is also a fan of webCampusPLUS.
"webCampusPLUS helps us and our members. I highly recommend it to everyone. You keep learning and it keeps the mind going. You also gain knowledge for everyday use."