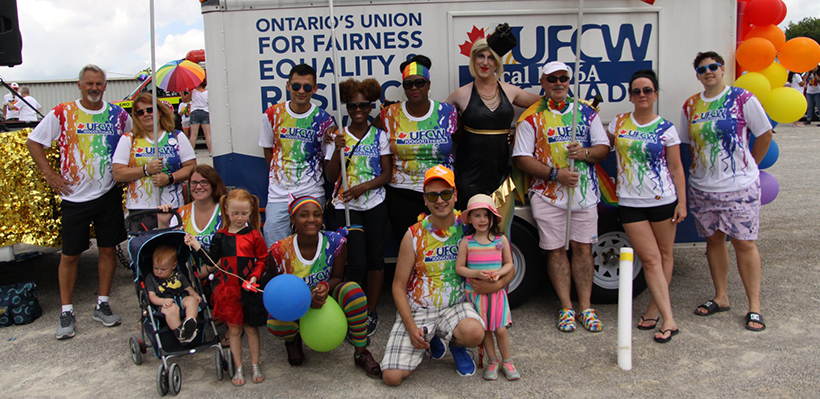 As the rain poured, Paul Milam marched and danced for the cheering crowds gathered for London Pride.
Milam, a member of the 1006OUTreach committee, helped organize the union participation at the parade on July 29, 2018.
"It felt amazing to see the outpouring of support and love from the crowd," said Milam. "Deep down, I know we all have a lot we are going through. Being here, you felt welcome, relieved and comfortable to be who you are. I was happy to participate with my union once again."
Milam, who marched as drag queen, Ruby Raz, was among a strong contingent from 1006A, which included members, activists and staff.
"Our local union is proud to be a voice for equality in our community," said President Wayne Hanley. "Our participation is about letting our LGBTQ members know they are not alone, and we are united in standing with them for an inclusive, progressive and fair Ontario where everyone belongs."
This is the third pride parade of the year for 1006OUTreach, which has so far participated in Brockville and Toronto. 1006OUTreach will also be at Capital (Ottawa) Pride on August 26 and at Peterborough Pride on September 22.
If you are interested in joining the 1006OUTreach committee, contact Tania Liu at This email address is being protected from spambots. You need JavaScript enabled to view it..