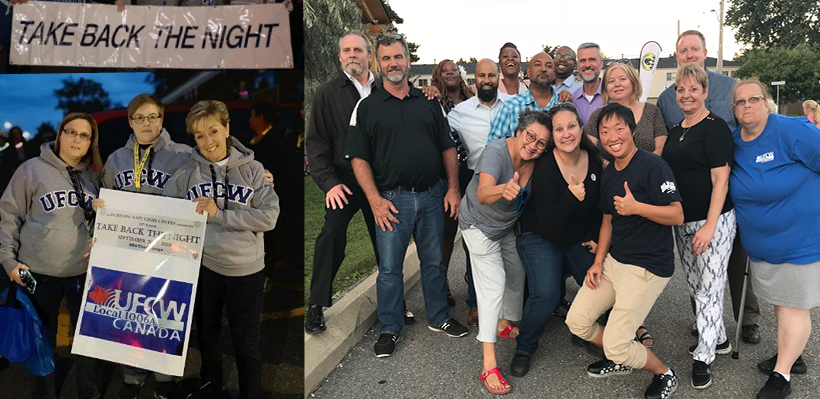 UFCW Canada Local 1006A activists and staff rallied against violence against women, by participating in Take Back the Night events this September.
1006A had a strong presence at Take Back the Night in Oshawa on September 20 and in Peel Region on September 13.
"There are many women who are suffering in silence," said Nancy Prout, who works at RCSS Whitby and is a member of WIN. "We wanted to send a loud and clear message that the physical and emotional abuse women experience must stop now. We came together to raise awareness and do what we can to eliminate violence against women."
Nancy, along with Dani Hayes and Shawna Denny, marched through Oshawa.
"It was a very inspiring and emotional evening," Nancy said. "There was great participation from across the Durham region and we were very proud to represent our local union together."
President Wayne Hanley commended members for their initiative and hardwork in creating change.
"I'm proud of our members and staff for taking action on such an important issue – Together, we will end violence against women," said President Hanley.
The need for action is more important than ever.
Dani said she wanted to raise awareness and show her support for every woman who has suffered.
"We need to end the cycle of violence and these rallies and walks, even though it's only one night at a time, give us the chance do do that," Dani said. "So many women are in need and the time to help them is now. Any later may be too late."
The Canadian Women's Foundation reports
If you are interested in participating or learning more about 1006A's WIN committee, please contact WIN Coordinator Glacier Samuel at This email address is being protected from spambots. You need JavaScript enabled to view it.
Important Resource
ShelterSafe: https://www.sheltersafe.ca/