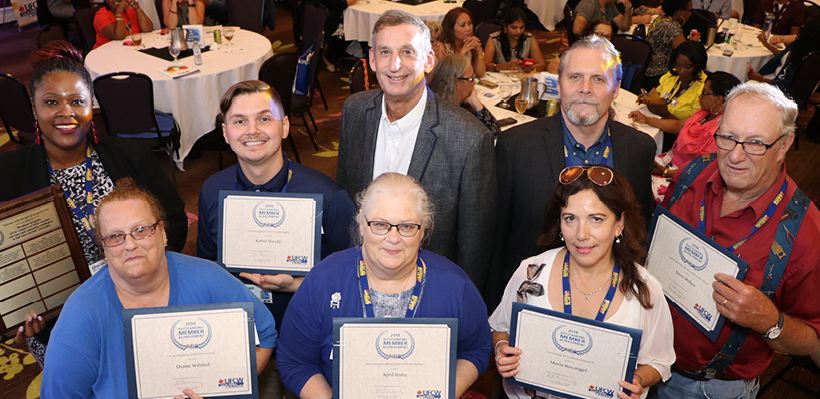 Five 1006A activists were recently recognized and celebrated for "Outstanding Member Achievement" and contributions to the union and their communities.
These annual awards are given in the following categories (one award worth $500 per category):
The 2018 award winners are:
Dave Mallen – Leadership & Advancement of the UFCW
Maria Bocangel – Fundraising for Leukemia Research
Diane Wilmot – Contribution to the Community
April Inata – Promoting Health & Safety in the Workplace
Kamil Siwula – Eliminating Barriers for Human Rights
"Being a steward to me means being there always for your brothers and sisters when they need you," said Maria, who was proud to receive her award. "It means standing up for them and keeping the values of unity, family, community and worth close to our hearts."
"Activism and being a steward is about helping others, and letting them know that our union will always have your back," said Wilmot. "The union has made a big difference in my life—it has helped me cope with a lot of things and helped me to understand others."
Our great union is home to many incredible members and activists dedicated to improving their workplace and/or their communities. This award is about honouring their outstanding efforts and encouraging increased activism among our membership base.
Recipients are announced at the local union's annual Stewards' Conference each year.
If you know a member who has shown outstanding commitment, dedication and activism in any of the above categories, you can do so by completing the application form.