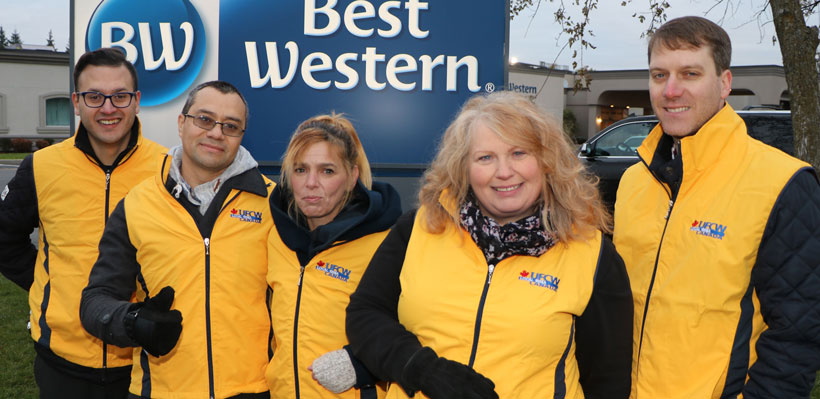 Union members at Best Western Brantford voted to accept their first union contract.
The contract runs from January 16, 2019 to January 16, 2022 and covers nearly 80 workers.
"It is amazing workers have a voice now," said Antonio Bautista, who works as a chef and is a member of the bargaining committee. "This was a positive learning experience for all the members — we learned how unions work, how seniority works, and about the rights we have as union members. We are really happy about having union representation and achieving this first contract – it's an amazing feeling we have as sisters and brothers in this workplace- sharing experiences and helping each other."
Bargaining was led by Union Representative Joe Blythe with support from Union Representative Kevin Bacon and members, Annie Colombo, Antonio Bautista, and Tracey Goodnaugh.
Gains include: seniority language, guaranteed yearly increases, clear stat holiday language, clear gratuity language (75% for worker 25% management), Health and welfare benefits for all Full Time workers starting in the second year.
"Achieving union representation is transformative for workers, because it provides them with the voice and power to make a difference at work," said President Wayne Hanley. "With their new contract, our members at Best Western Brantford have shown the strength workers have to improve and protect their rights and livelihoods through unionization. The outstanding work of our committee is a testament to why UFCW Local 1006A continues to be the best union for hotel workers across Ontario."