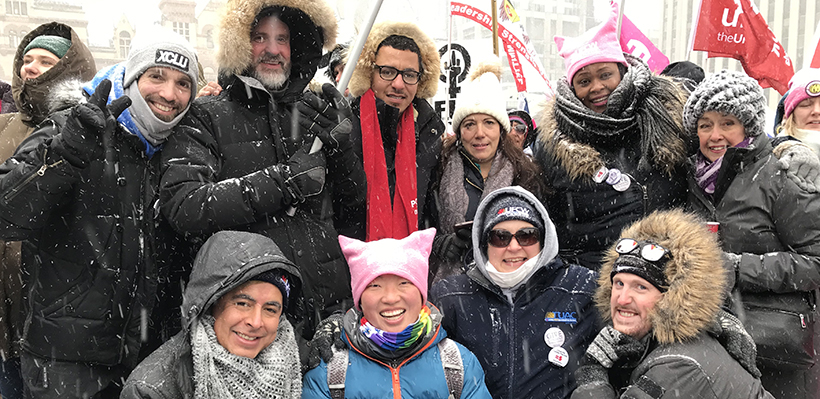 The bitter cold and snow couldn't keep Local 1006A activists and staff from the Women's March and Rally at Nathan Phillips Square.
Valrie Francis, a graduate of the UFCW Canada Youth Internship Program and a steward, was driven to participate because "this was a day dedicated to speaking up and having a strong stance on social change."
"Even though it was beyond freezing outside, I was excited to hear from the speakers and experience this moment," said Francis. "I didn't want to be a person who just engages in conversation but someone who actively participates in the movement of change."
Observed worldwide, 2019 marked the third year for the Women's March.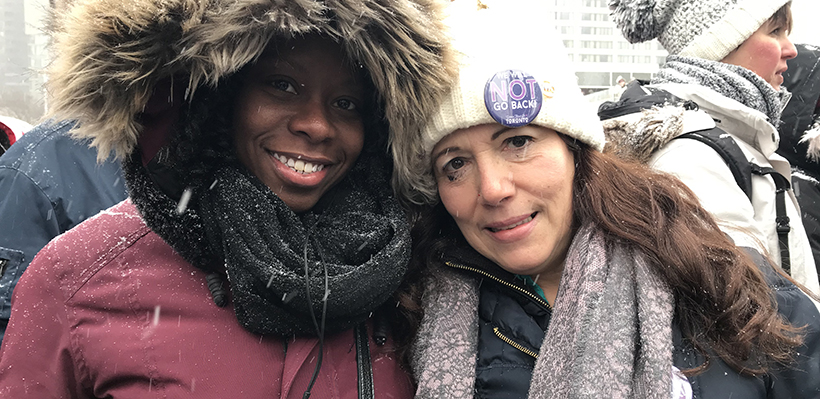 "The fight for equality unites us all, and we are proud as a union to stand with our sisters as we work to break down the barriers and build fairer and more just communities for all," said President Wayne Hanley.
Organizers in Toronto said the day was about making women's voices heard to policy makers and standing up against attacks on local communities.
Currently, women in Ontario are already paid 30% less than men annually. The Conservative government made things worse by cancelling the minimum wage increase to $15, cutting 2 paid sick days, and eliminating scheduling improvements.
"Studying women's rights movements and having the opportunity to work with abused women has given me a deeper understanding of the influence and impact it has created in society," Francis said. "Attending the Women's March was not just eye opening but in my opinion taking one step closer to equality for women."
Nancy Prout, a member of 1006A's Women's Issues Network and a steward, was among those who also attended.
"I was proud to participate and stand up for equality for all," said Prout. "Women's voices are still not being heard or recognized at the workplace or our communities and that needs to change. We have been fighting this battle for years and there is still a long way to go – We deserve to be given the same respect for our input and knowledge that men are."
Prout said it was inspiring to see the turnout as well as the supportive presence of male allies.
"Considering the weather, I was amazed at how many people braved the conditions to come out and support equality for all."
Paul Milam, a member of the Outreach committee, was also on hand to support his 1006A sisters.
"The women's march was amazing with a good turnout for women's empowerment," said Milam. "I'm very happy I got to support a good cause with my union, friends and union members."