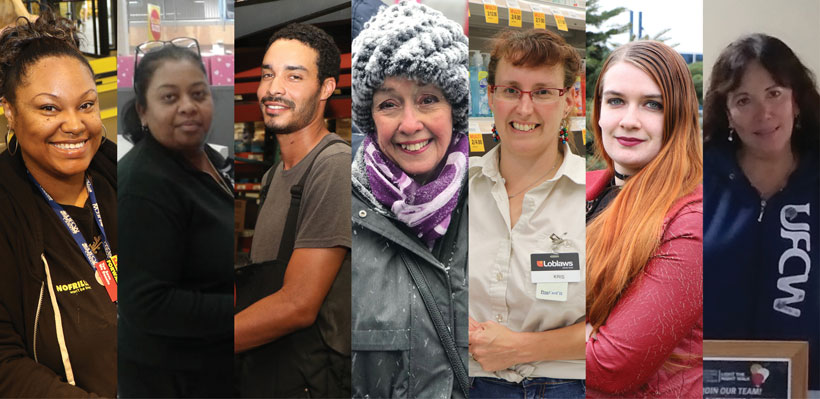 With 2019 underway, 1006A activists are sharing their goals and resolutions for 2019 on what they can do to make our union and communities stronger.
For 1006A steward Natasha Grey, her focus will be on fighting for the $15 minimum wage.
"I am going to get out more in the community and spread awareness about labour rights and what Doug Ford is doing to damage the working class. I would like to make our union strong by going to more rallies and coming up with ways to take on Doug Ford and the PC party. I would like to join the women's network to raise awareness about the issues women face."
Grey also plans to participate in more WSIB and Health and Safety causes to gain knowledge to better protect her co-workers.
Steward Annie Sundar also has concrete goals she is focusing on.
"My big goal is to get another union steward for my store this year," said Sundar, who is also a Executive Board member. "I'm also planning to take more Education & Training courses so I will gain more knowledge and skills to help out the membership. Health and Safety is another big focus for me – we have issues at my workplace and I want to do what I can to promote a safe working environment."
For Annie, this year will also be different as she plans to become more involved with the local union's Women's Issues Network.
Joshua Robichaud is also a 1006A Steward and a graduate of the Young Worker Internship Program. His goal this year is to do what he can to increase member engagement.
"My goal is to get more members at my workplace involved with the union and to educate members about their collective agreement," said Robichaud. "I plan to tackle that resolution by taking on more of a leadership role at work and help the members understand union values and what it means to be a union member."
Nancy Prout's goal this year is to increase her activism and in turn, increase participation within the members in her workplace.
"I plan to take a more active role as a member and a Steward, collaborating with our members on a more frequent basis in order to strengthen awareness," said Prout, a steward and a member of the Women's Issues Network. "I will do this by learning new communication and networking skills to benefit both myself and our members. Engaging with our members means listening to establish common goals and direction and more importantly, communicating to increase union awareness and participation. Working together is the strength of our union."
Steward Kristine Seguin already has plans for two DART tournaments and two craft sales this year in the Eastern Region to raise money for the Leukemia & Lymphoma Society of Canada.
"I'm excited to continue my focus on fundraising for this cause. There are so many people around me who have been affected, including two family members. This is one of the causes that people should be made more aware of. The more fundraising that is done, the closer we get to being able to cure people and eliminate this disease all together."
Hailey Ivey is a graduate of the Young Worker Internship Program and member of her workplace bargaining committee.
"I joined Outreach at the end of last year, so I am looking forward to getting more involved with Pride events and initiatives this year. I am also looking forward to participating in the Steward Networking program and find ways to build better and more meaningful relationships with members."

Steward Maria Bocangel is also excited about 2019.
"My resolution is to continue to engage more new members to become more active in our union, especially young workers because they are the future of the union and our country. I also want to do what I can to promote equality in the workplace."