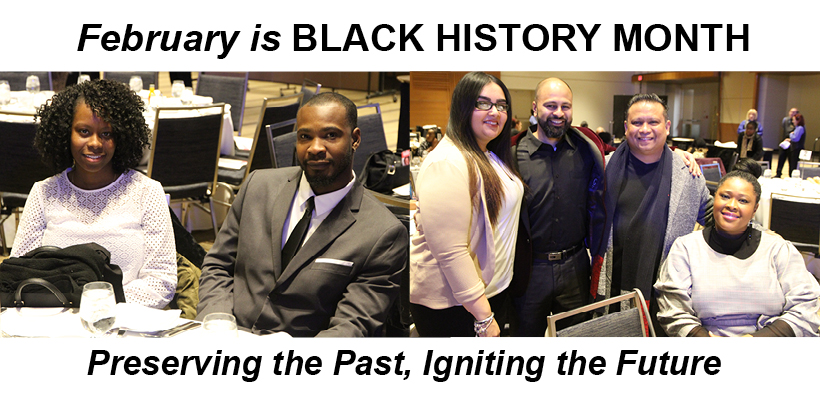 UFCW Canada Local 1006A activists kicked off Black History Month early with the Ontario Black History Society in Toronto.
The event, on January 27, took place in advance of February 1- which marks the official start of Black History Month. The theme was "Preserving the Past, Igniting the Future."
During this historically significant month, we remember the struggles and the sacrifices and celebrate the tremendous contributions Black Canadians have made to helping build a strong and progressive Canada. We also reflect on what we can do to build a more equal and fair world, at a time when Black Canadians face ongoing racism and discrimination at work and in our communities.
Valrie Francis, a Steward, was among the participants at the event.
"I went because I was looking forward to seeing black communities and cultures being represented in a positive light," she said. "I wanted to participate in the celebration of accomplishments that has taken place in the past, currently and what is happening for the future."
Francis said the experience felt more significant for her due to her visit to a former slave owners' house and plantation last year.
She realized then there is a need to hear more about Canadian Black History within our school systems and media.
"When events like these take place, there is more awareness and education that occurs about Black History, the meaning of building and developing our communities and fighting anti-black racism," she said. "I'm pleased to know my union demonstrates diversity and inclusion for everyone."
In Canada today, Black Canadians face increased barriers to employment and advancement, high levels of poverty and reduced access to housing. In addition to discrimination within the education system, they also face greater levels of police profiling resulting in overrepresentation within our justice system.
"We are proud to celebrate Black History Month and recognize the tremendous contributions that Black Canadians have made to building the labour movement and country," said President Wayne Hanley. "Equality, inclusiveness, and justice are core values to our union and we pledge to work side by side with our sisters and brothers to break down the barriers of discrimination and prejudice and build a more equal and fairer world for all. "
1006A Steward Rechev Browne was also at the event.
"It's important because if we have to move forward as a people, we need to know where we come from —our struggles and our successes so we can look forward to building a brighter future together," said Browne. "It is about celebrating our heroes like Viola Desmond, Martin Luther King Jr., and Malcom X."
The event was hosted by the Ontario Black History Society, a non-profit registered Canadian charity, dedicated to the study, preservation and promotion of Black History and heritage.
Learn About Famous Black Canadians
Viola Desmond
A businesswoman who was jailed and charged in 1946 for refusing to sit in the racially segregated section of a Nova Scotia theatre. She is pictured on the $10 Canadian bill.
Mary Ann Shadd
In the mid-1800s, Mary Ann became the first female publisher in North America and founded an anti-slavery newpaper and established a racially integrated school.
Carrie Best
In the mid 1900s, she co-founded the Black newspaper, the Clarion. She and her son were also arrested and charged in 1941 for trying to sit in the non-segregated section of a theatre. She filed a civil suit, citing racial discrimination which ultimately failed.
William Hall
He fought with the British and was the first Canadian sailor to be honoured with a Victoria Cross in 1859.
Josiah Henson
Author, abolitionist and minister. The character, Uncle Tom, in Uncle Tom's Cabin is based on Henson.