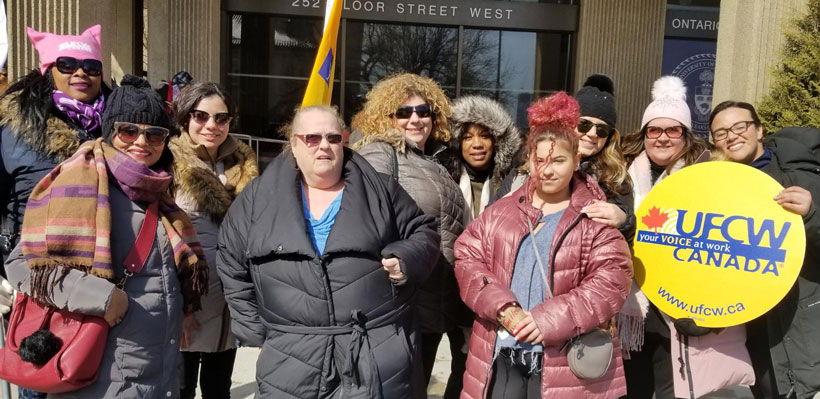 Local 1006A members and staff took to the streets on March 9 to stand up for women's rights at the International Women's Day (IWD) March in downtown Toronto.
They joined hundreds as they rallied at OISE Auditorium and then marched down to Ryerson University.
IWD is about standing up for gender equality and empowering change within workplaces and our communities. It is also about raising awareness and celebrating the role women continue to play in building our union and our country.
"It was an inspiring and beautiful experience," said Pramie Ramroop, who works at Janes' Family Foods and is a member of the local's Women's Issues Network (WIN).
Ramroop attended the IWD rally and march for the first time.
"It was incredible to see so many women out on the streets, marching and making our voices heard for women's rights," she said. "I was so proud to participate with my union and learn about the struggles and stories of women in Canada and around the world."
Diane Wilmot was also among those who took part in the IWD event.
"It was an awesome experience that I enjoyed tremendously," said Wilmot, who works at a No Frills in Toronto. "It is about making clear that women can do anything they put their minds to and that they have the same ability as men. I also want to make sure our struggles are not forgotten and the younger generation will carry on the fight." She said it was great to see the high participation of youth at the IWD event.