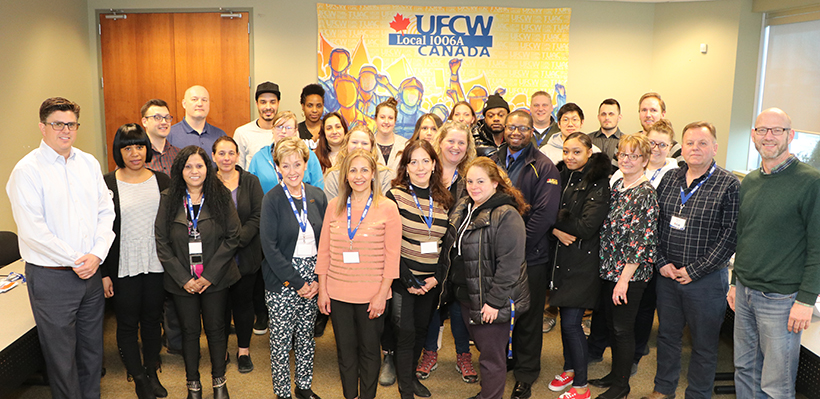 UFCW Canada Local 1006A is growing and strengthening its Stewards' Network, to further engage members within workplaces across Ontario.
The program began in the fall of 2018 as a new initiative of the local union and participants came together on April 11 to share ideas and information and strategize on how to better engage the membership.
"For me, the importance of this network is the relationships that are made through the process – getting to know the members individually and what is important to them when it comes to the union," said Joshua Robichaud, who works at Summit Foods. "The benefit for me is knowing how to interact with members – everyone is different and taking time to learn about them goes a long way in building a strong foundation for the network."
The session was led by UFCW Canada Director of Education Marv Funk and 1006A Executive Assistant to the President Dan Gilbert.
"I think the most important thing about the stewards network is the connections we make and the conversations we have– the benefits can be infinite," said Kallisha Hoyes, who works at No Frills. "For me personally, if it wasn't for my rep coming in and building a connection with me, I wouldn't have gotten as involved in my union or community as much as I am today. It gives me hope the networks we are building will make our union stronger."
Ray Hill, who works at Loblaw Great Food, is also a participant of the Stewards' Network.
"It was good to hear the voices and perspectives from other workplaces and industries," said Hill. "It brings members together to form a positive space in our union."
"Being part of the Stewards' Network is an engaging and inspiring experience and it's great to come up with ideas together," said Nancy Prout, who works at RCSS.