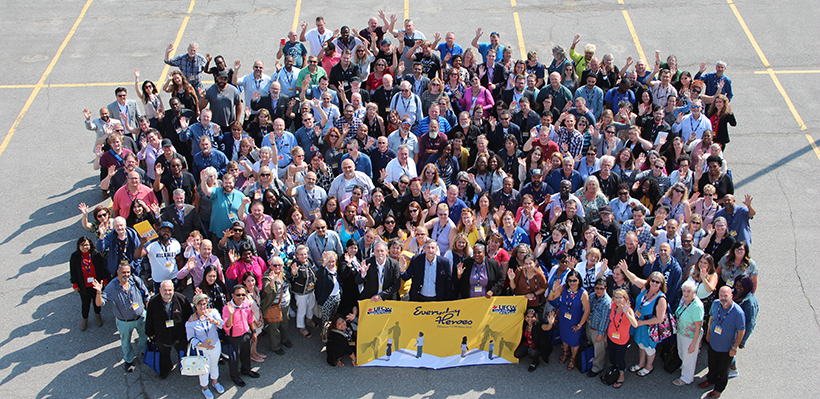 UFCW Canada Local 1006A hosted its fourth annual Stewards' Conference, drawing a record 230 stewards from across the province.
The conference featured a variety of speakers, including 1006A President Wayne Hanley, Youth Activist Rayne Fisher-Quann, Brampton Centre MPP Sara Singh, and Human Rights activist Samra Zafar. The local union also held a variety of workshops, on Health and Safety, Addressing Sexual Harassment at Work, Political Action, Understanding Mental Health and Organizing for Change.
The theme of the conference was "Everyday Heroes" and celebrated stewards for the work they do on behalf of the membership everyday.
"The conference was inspiring and motivating," said Eric Lee, a steward from Loblaw. "I learned a lot about my union and met many people from different walks of life."
"I am a steward to help everyone feel they are safe and a part of something. That no one is alone, that there is always someone there to listen and be honest with them, someone that is on their side to help."
"This conference is about honouring and recognizing our stewards' commitment to making our world a better place," said President Wayne Hanley. "Our stewards are everyday heroes who engage in acts of heroism big and small. Our stewards make a difference and make our union, workplaces and communities great."
Valrie Francis, who works at the Real Canadian Superstore, was among those who participated.
"I think the conference was amazing and I really enjoyed the speakers," she said. "I loved the different stories each speaker shared about their personal journeys and how, as everyday heroes, we can make a difference with the actions we take."
"I'm a steward because I love to help people and provide a way of service by explaining their rights within the workforce and how they can apply that to everyday life situations."
Caroline Brisebois, Cashier and Steward at Loblaws Vanier, was thrilled to be at the conference.
"The conferences are always amazing," said Brisebois. "Fighting for people's rights is hard - the conference showed us that we are everyday heroes. I am a steward because I want to help solve issues for the membership and, make life better for the people I work with."
"I enjoyed the conference and the speakers," said Jim Brunk, a steward who works as a driver at National Grocers in Cambridge. "I wanted to learn more to be able to represent the membership better. I always try to be more available for my members."
"The conference featured great speakers and it was nice to interact and meet new people," said Darryl Trainor, who works as a produce manager at Loblaws.
"I really enjoyed the conference. I love that we had different workshops with different speakers," said Bernadette Biggs, from Loblaws.
"There are days I feel that I'm a hero and there are days I don't," said Isabel Rodrigues, who works at Canadian Linen. "Ultimately, I like to help out my brothers and sisters who are need. I wanted to attend the conference because every year, we learn something interesting."
Sheela Sivanesan, a steward at Unifirst Canada, said the conference was an amazing experience because it provided an opportunity for stewards to meet each other.
"I learned a lot, from the Health and Safety presentation to Human Rights discussions," she said. "I'm a steward because I want to solve people's problems and explain what the UFCW is and what it can do for people."
Jim Tessier, who works at Alsco Canada Corp, said he became a steward to stand up for his co-workers' rights and those of the community.
"The conference is an important part of being a steward–it's an opportunity to gain more knowledge to be better stewards."
Lucy Afram, who works at Canadian Linen, said it was the first conference she has attended.
"It's my first steward conference and I am looking forward to next year," said Afram. "I really enjoyed the conference, I got to interact with new people and I also learned a lot."
John Sedore, who works at Tok Transit, said he feels proud as a steward when he helps find a resolution for his co-workers on the issues they are facing.
"I am a steward because I want to be a voice of fairness to all employees," he said. "It is vital to have stewards because it is important to speak up on behalf of employees when unfair treatment situations arise."
"It's a very informative session," said Sedore. "It's nice to reconnect with other stewards, and build my network of knowledge and support."