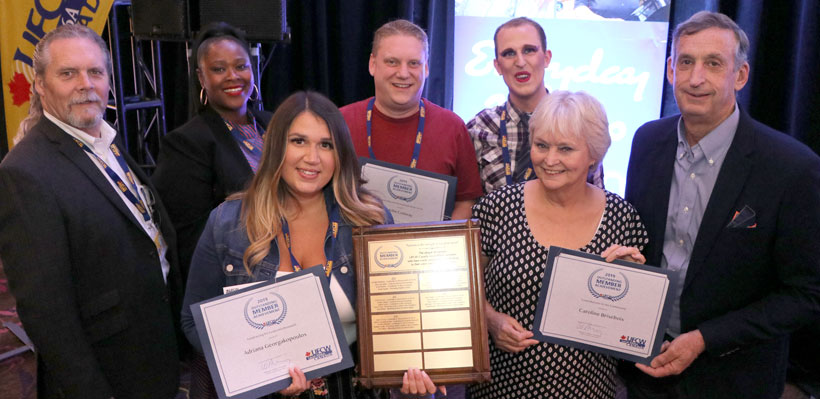 UFCW Canada Local 1006A is proud to congratulate the five winners of the 2019 "Outstanding Member Achievement" awards.
The five were recognized for their contributions to the union and their communities.
These annual awards are given in the following categories (one award worth $500 per category):
The 2019 award winners are:
John Conway– Leadership & Advancement of the UFCW
Adriana Georgakopoulos – Fundraising for Leukemia Research
Caroline Brisebois – Contribution to the Community
Stephen Lavalle – Promoting Health & Safety in the Workplace
Paul Milam – Eliminating Barriers for Human Rights
"Winning this award was absolutely amazing," said Paul Milam, who works at a London Loblaw. "I love helping and communicating with people – I always tend to meet them halfway when it comes to issues regarding human rights, and breaking down those barriers for people who have no voice. I am very honoured and proud to stand up for equality for all, and to reach out to individuals that might need someone to talk to or support when they're looking for an opportunity to shine and get involved."
"I wasn't expecting to win an award at all – it was humbling. It just makes me feel proud I am doing good work and I hope others can see that too," said John Conway, who works at Baton Rouge in Ottawa. "The union has made such a big difference in my workplace—it is a strong influence for us, and everyone at work is so proud to be 1006A."
Our great union is home to many incredible members and activists dedicated to improving their workplace and/or their communities. This award is about honouring their outstanding efforts and encouraging increased activism among our membership base.
"It was a honour to be recognized for this award because as a union, we fight hard to protect the rights of our members," said Caroline Brisebois, who works at a Loblaw in Ottawa. "Our members will hopefully pay it forward in our communities."
Recipients were announced at the local union's Stewards' Conference.
Consider nominating someone for the 2020 award. If you know a member who has shown outstanding commitment, dedication and activism in any of the above categories, you can do so by completing the application form.