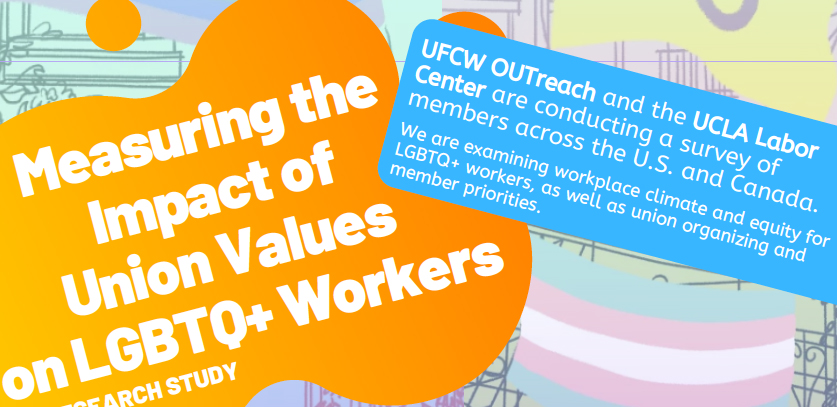 UFCW OUTreach is encouraging all members to participate in a survey, measuring the impact of union values on LGBTQ+ Workers.
We are studying the workplace experiences and inequities of lesbian, gay, bisexual, transgender, and queer (LGBTQ) union workers in UFCW industries in Canada and the US. The study also examines local union responsiveness and engagement in protecting LGBTQ workers.
The research is being done in collaboration with UFCW OUTreach and the UCLA Labor Center
The survey is open to UFCW members over 18 in Canada and the United States. UFCW OUTreach is also running a raffle, where you can have the opportunity to win an iPAD or 12 $50 gift cards.
The survey is anonymous and takes about 10 minutes to complete.
The goals of this study are to:
understand the prevalent and significant labor issues facing LGBTQ workers in industries represented by UFCW;
compare workplace inequities experienced by LGBTQ workers working in different policy contexts, as well as differences across industry, region, and demographic factors (e.g., rural/urban, gender, race/ethnicity, age, language).
assess the scope of knowledge and responsiveness among local UFCW union members and leaders of workplace issues facing LGBTQ workers;
identify priorities of union leaders and members related to advancing LGBTQ workers rights.