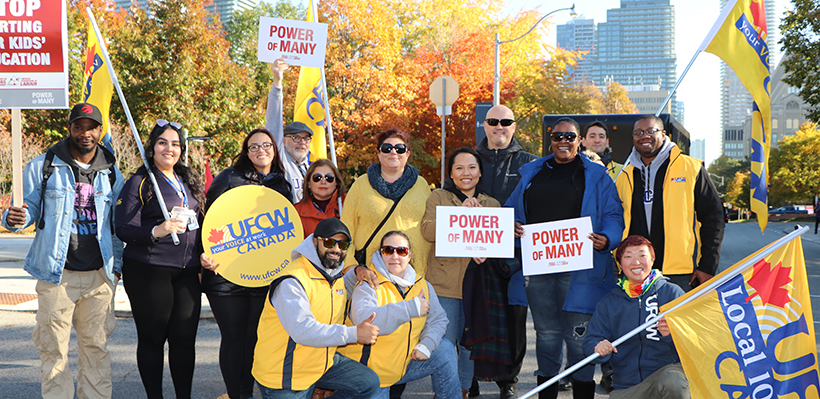 1006A joined labour and community allies at Queen's Park on October 28 to march against Conservative cuts to health care, education and services that working families depend on.
Conservative Premier Doug Ford had suspended the legislature for 5 months, the longest in Ontario's history.
"Cuts to social services and education hurts the majority rather than the minority and affects the most vulnerable, including racial communities, women of colour, and the communities around us," said Rechev Browne, a union steward. "I participated in the OFL rally to let the Ford government know we in labour will be watching and holding them accountable. I also wanted to show support to the workers and community members affected by the Ford government's cuts."
"The majority of Ontario has turned against Ford's agenda of endless cuts to the services that residents and their families depend on," said President Wayne Hanley. "Ford hoped his five-month break will make Ontario families forget the harm he caused, but guess what, we haven't forgotten. Ford's endless cuts are no way to run Ontario. Instead of creating a prosperous province, the premier is finding ways to weaken and diminish our healthcare, education system, and workers' rights."
Marchers walked around Queen's Park to raise awareness about the widespread cuts.
The OFL reports:
Reduced funding to schools has meant layoffs for education workers, meaning, among other things, 50,000 fewer courses for students.
Cuts to post-secondary funding have forced some students to drop out of universities and colleges.
Cuts to public health hurt Ontarians, and under the Conservative government's changes to health care, more people are forced to endure hallway medicine.
Lack of action to improve health and safety for temp agency workers.