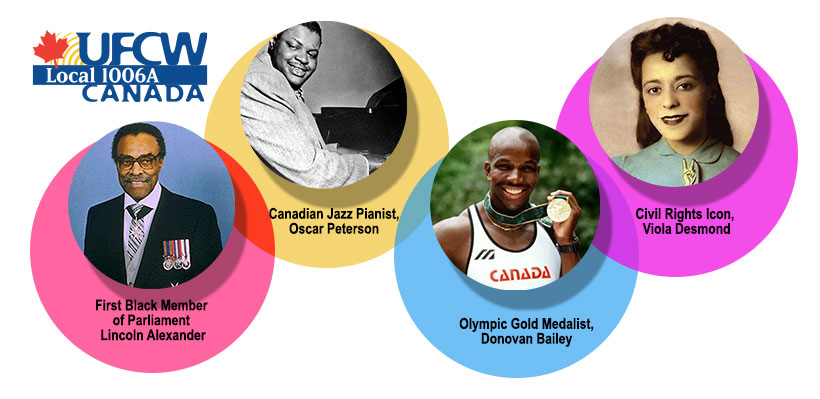 February 1 marks the start of Black History Month.
This year's theme is "Canadians of African Descent: Going forward, guided by the past." It's inspired by the United Nations recognizing 2015-2024 as the International Decade for People of African Descent.
During this month, join your union as we celebrate the contributions made by Black Canadians to building a strong and progressive Canada.
Together, we reflect and reaffirm our commitment to create a more equal and fair world in the face of ongoing racism in our country.
The reality is our sisters, brothers and friends in the Black Canadian community continue to face prejudice today at schools, work and in our communities. This includes structural discrimination and barriers to entry and progress in the employment sector. It also includes profiling, over-surveillance and criminalization due to skin colour from a young age.
While we celebrate the many achievements of Black Canadians, we also pledge to work to create change.
The labour movement is built upon the premise of standing up for equality, justice and fairness for all. These principles are evident in the union contracts we negotiate, which guarantee that all workers regardless of skin colour, gender, sexuality are treated equally.
This month, we affirm our commitment to stand with our sisters, brothers and friends in the Black Canadian community and work to eliminate prejudice and racism at work and in our communities.
In Solidarity,
Wayne Hanley
Learn About Famous Black Canadians
Viola Desmond was jailed and charged in 1946 for refusing to sit in the racially segregated section of a Nova Scotia theatre. Viola, a businesswoman, is pictured on the $10 Canadian bill.
Oscar Peterson was one of Canada's most accomplished jazz musicians who achieved international fame. He was a Jazz Pianist, Composer, and 8-Time Grammy Award Winning Artist.
Lincoln Alexander served as the first Black Canadian Member of Parliament, the first Black Canadian Member of Cabinet, and as Lieutenant Governor.
Donovan Bailey was a track and field superstar. He was the world record holder in the 100 metres and the 1996 Olympic Gold Medal Champion.
Mary Ann Shadd became the first female publisher in North America in the mid 1800s. She founded an anti-slavery newpaper and established a racially integrated school.
Carrie Best co-founded the Black newspaper, the Clarion, in the mid 1900s. She and her son were also arrested and charged in 1941 for trying to sit in the non-segregated section of a theatre. She filed a civil suit, citing racial discrimination which ultimately failed.
William Hall fought with the British and was the first Canadian sailor to be honoured with a Victoria Cross in 1859.
Josiah Henson was an author, abolitionist and minister. The character, Uncle Tom, in Uncle Tom's Cabin is based on Henson.