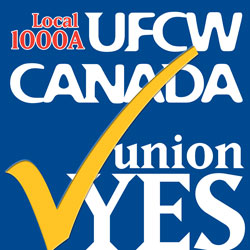 Workers at Mississauga-based Impulse Graphic & Display Solutions Inc came together to vote "YES" for union representation with UFCW Canada Local 1000A. The vote took place on March 18, 2016.
"On behalf of Local 1000A, I am proud to welcome workers at Impulse into the UFCW Canada family and congratulate them on the strength and solidarity they showed in coming together to have a united voice in improving their workplace and livelihood now and into the future," said Local 1000A President Pearl Sawyer.
Impulse specializes in creating signage, graphics, displays and much more.
Key issues include scheduling and wages.
"The first step to improving a workplace begins with union representation and by becoming part of UFCW Canada Local 1000A, the workers have shown their commitment to improving their future," said Jonathan Lobo, Organizing Coordinator for the local union. "None of this would have been possible without the workers coming together in solidarity."
If you know of anyone who will benefit from union representation, please contact Local 1000A's Organizing Coordinator Jonathan Lobo at 416.459.5077 or This email address is being protected from spambots. You need JavaScript enabled to view it..