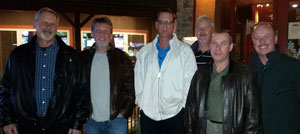 Transport drivers at National Grocers Maple Grove Distribution Centre recently ratified a new contract with signing bonuses, wage increases, and improved language.
"Our bargaining committee did an excellent job through a tough set of negotiations to get to the deal that was ratified," said Bill Vantol, UFCW Canada Local 1000A Staff Representative.
Negotiations were led by Vantol, with support from Regional Director (Western Ontario) Brian Reid, and members Roger Siroky, Darrell Swanson, Trevor Enos, Dave Moore, and Doug MacEachern.
"This is a fair deal with wage increases and gains for everyone," Vantol said. "We pushed the company as far as we could go in negotaitions."
The agreement is effective from the date of ratification, March 8, 2016, to March 8, 2021.
Workers classified in Tier 1 received $1,000 signing bonus, $2,000 in lump sums and $1.50/hour increase over the five-year contract. Workers classified in Tier 2 received a $1,000 signing bonus and $2.50/hr wage increase over five years. During negotiations, the bargaining committee was able to reduce the wage gap between Tier 1 and Tier 2 over the term of the agreement.
Part-time workers also received a $500 signing bonus and $1 wage increase over the term of the contract.
Other gains included an increase in the mileage rate from 24 cents/km to 26 cents/km. Improved language also means that union drivers get a choice of all the work ahead of fresh start third-party carriers. Improved severance language was negotiated in the case of closure- three weeks pay per completed year of service for all drivers.
"Our members at Maple Grove Transport have done their part in the past to provide the business with the flexibility it needed, the time had come now for them to make gains," said Local 1000A President Pearl Sawyer. "Our negotiating committee showed incredible resolve, strength and determination in coming together in solidarity to achieve wage increases and many other gains. Congratulations to the bargaining committee and the members at Maple Grove Transport for achieving a fair deal."