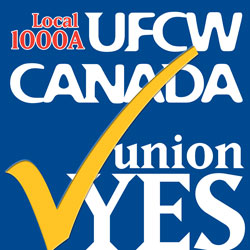 Workers at Canada Catering showed solidarity and strength as they came together to vote for union representation with UFCW Canada Local 1000A. The vote took place April 5, 2016.
"Making your workplace better begins with union representation and I am proud to congratulate the workers at Canada Catering for coming together to take this important first step for their future," said Pearl Sawyer, Local 1000A President. "We look forward to working with our newest members to improve their workplace and livelihood."
Key issues included the lack of health and welfare benefits and respect in the workplace.
"From the tremendous support and outcome of the vote, workers at Canada Catering have sent a clear message to their employer that they are committed to creating positive change in their workplace and achieving a better future," said Jonathan Lobo, Organizing Coordinator for Local 1000A.
If you know of anyone who will benefit from union representation, please contact Local 1000A's Organizing Coordinator Jonathan Lobo at 416.459.5077 or This email address is being protected from spambots. You need JavaScript enabled to view it..