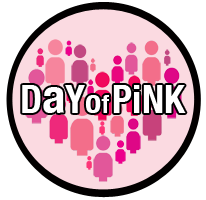 UFCW Canada Local 1000A was proud to participate in the International Day of Pink on April 13, 2016!
Union members, staff and executive joined in taking a stand against bullying, discrimination, homophobia and transphobia in our schools, workplaces and communities by participating.
The Day of Pink is about rising up for equality, diversity, and inclusivity in our society. It began in 2007 as response to a gay student being bullied for wearing pink at his Nova Scotia high school. Two students not only intervened but a few days later, also eventually got the entire school to wear pink shirts in solidarity.
The Day of Pink is a global phenomenon, observed around the world. For more information on the day of pink, please visit http://www.dayofpink.org/.