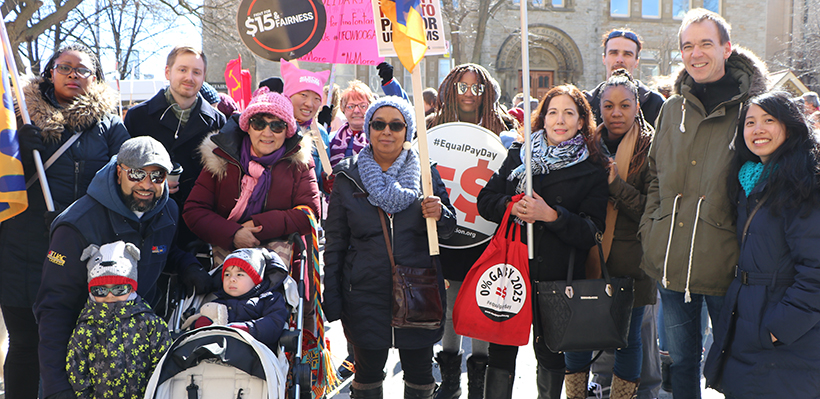 Waving union flags and signs, 1006A activists and staffed marched in downtown Toronto for International Women's Day (IWD).
The event took place on March 3, 2018 and drew thousands of participants.
"We are here to march for equality and fairness for everybody," said Maria Bocangel, a member of 1006A Women's Issues Network who works at a Toronto RCSS.
After a rally, marchers walked through the streets to Nathan Phillips Square. 'Fight for $15 & Fairness,' 'I will not be silent,' and 'Believe Women' were just some of the messages portrayed on signs. Participants also called for justice for Tina Fontaine, whose death occurred at a time when she should have safely been in the custody of Child and Family Services. The man charged in her death was acquitted.
"IWD is a time to celebrate the tremendous achievements women have made to our labour movement, workplaces and communities," said President Wayne Hanley. "It is also an opportunity to raise awareness and affirm our commitment to confront the struggles women face." Read President Hanley's full message.
Maria Cabral, a 1006A Executive Board member who works at Maple Leaf Poultry, was among those who also participated.
"I am here to celebrate International Women's Day with my union and stand up for women's rights," said Cabral.
1006A also participated in a International Women's Day Brunch on March 4, to celebrate sisterhood and raise funds for women-centered organizations in Peel, which are actively involved in assisting women and girls in local communities.