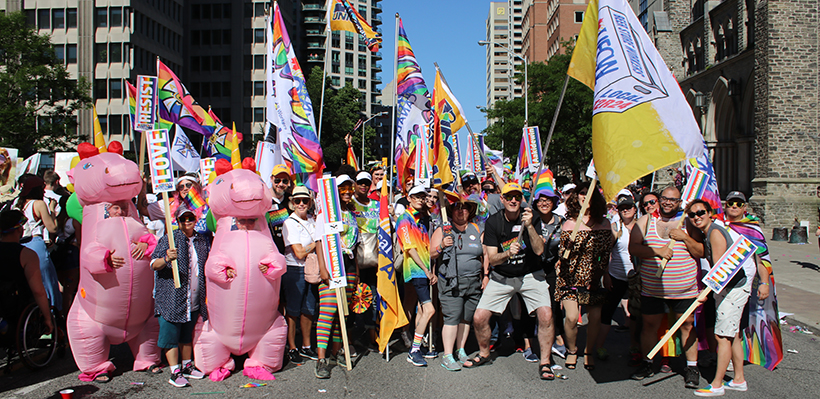 Members marched and danced their way down the streets of downtown Toronto in support of equality, and human rights for all.
The three-day event kicked off with the Trans March on June 21, followed by the Dyke March on June 22 and the Pride Parade on June 23. The local union also had a booth on Church Street and for the first time this year, participated with the Mississaugas of the New Credit.
"Raising awareness and participating in Pride is important because it is about sending a positive message to the 2SLGBTQi community, that there is support out there, and that we all belong and we all love each other," said Paul Milam, a member of 1006OUTreach. "I encourage everyone to join us at the Pride events, the next one is in London, because it is truly an amazing experience."
1006OUTreach participates in several pride events each year. In 2019, we've already taken part in Durham Pride, Brockville Pride and now Toronto Pride. Next up is London Pride on July 28 and Ottawa Pride on August 25.
"Just know we have so much help for everyone, know that it is okay, you can talk to your stewards and reps, and you have your union family to support you always," said Josie Barberi, a member of the 1006OUTreach committee.
Roselle Abas, another member of 1006OUTreach, said it is important to raise awareness, and be there for members of the 2SLGBTQi community who may need someone to lean on
"Everyone is here for you and we love you," she said.
"We are proud of the outstanding work of our 1006OUTreach committee in standing up for equality and for being an incredible source of strength, comfort and empowerment for our members from the 2SLGBTQi community,"said President Wayne Hanley.