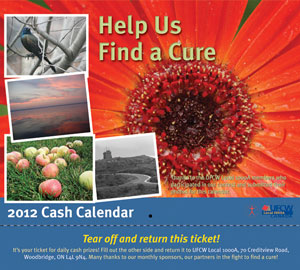 UFCW Canada Local 1000A is proud to announce the return of the Leukemia Cash calendar fundraising initiative. This 2012 calendar features beautiful photographs submitted by Local 1000A members from across the province. Money raised from this exciting fundraiser is donated to the Leukemia and Lymphoma Society of Canada.
How it Works: Purchasing a calendar places you in a daily draw to win a cash prize of $50 - $500. If you win, your name is re-entered in the draw giving you unlimited chances to win until December 31, 2012!
Or call Dustin Magee at 416.888.1176.