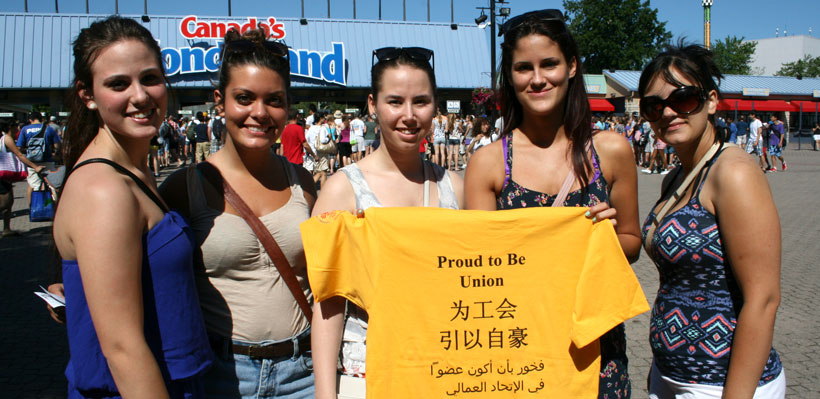 Attention UFCW Canada Local 1006A Members! Deadline for Discounted Wonderland Tickets is MAY 27, 2016!
You, your family and friends are invited to join us on Saturday, June 18, 2016 for a "Members Discount Day" at Canada's Wonderland.
COMBO TICKET (includes PARK ADMISSION and ALL-YOU-CAN-EAT MEAL)
Adult (3-59 years and over 48" tall) - $46.00
Junior (3 years and under 48" tall in shoes) - $42.00
Senior (over 59 years) - $42.00
Kids (2 years and under) - Free
In addition to admission to Canada's Wonderland, you will receive FREE PARKING, FREE LUNCH and FREE T-SHIRT from your union!
DETAILS
Canada's Wonderland: 9580 Jane Street, Vaughan, Ontario (10AM to 10PM)
All-You-Can-Eat Menu from 3:30pm to 4pm in the courtyard: Southern Fried Chicken, Grilled Hot Dog on a bun, Veggie Burger, Baked Macaroni and Cheese, Tossed Salad, Crispy Coleslaw, Balsamic Red Onion & Tomato Salad, Choice of 1 Dessert (Ice Cream Cup, Cookie, or Cake), All you can drink soft drinks!
Speak to your union steward in the store if you are interested in attending. If you have any questions, please contact Diana at 416.529.4209 or This email address is being protected from spambots. You need JavaScript enabled to view it.
Save
Save
Save
Save