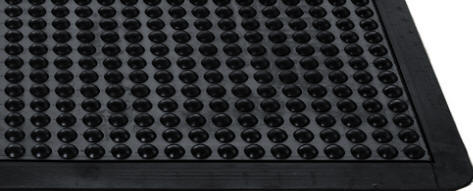 Local 1000A is pleased to announce the union has won an arbitration permitting the use of anti-fatigue mats at u-scan podiums. The arbitrator found that the company's removal of the anti-fatigue mat at the Great Food store in Vanier breached the Occupational Health and Safety Act and therefore, upheld the union's policy grievance.
"Protecting the health and safety of our members is a critical priority for Local 1000A," said Pearl Sawyer, Local 1000A President. "This issue initiated through one store will now apply to all Loblaws, RCSS and Great Food stores with the u-scan podiums and help other workers in other similar situations attain protection."
During the arbitration, union witnesses spoke of how often they were required to be at the u-scan podium and of how uncomfortable they felt standing there for any length of time: 'Cumulatively over a whole shift, or for any lengthy period, despite moving around as needed, their legs ache if they do not have an anti-fatigue mat. They experience leg and back pain, sometimes severely."
The decision was welcomed by Local 1000A Staff Representative Shirley Heise. "The arbitrator's decision will make a significant difference in the health of our members and will ensure workers' rights are respected under the collective agreement and respective legislation," Heise said.
In his decision, the arbitrator noted: "I am satisfied, in all of the circumstances (the lack of significant cost to the Employer, the mat not being a hazard, the desire of the employees to have the mat, their strong belief that it protects their health), that having the anti-fatigue mat at the u-scan podium is a reasonable precaution for the protection of the u-scan clerks who work there. The company's failure to take that precaution is therefore a breach of the company's statutory obligation."
Caroline Brisebois and Jackie Perkins, Local 1000A members who work at the u-scan podium at the Great Food store in Vanier, were witnesses for the union.
If you work at Loblaws, Loblaw Great Food, or the Real Canadian Superstore and have concerns or questions about anti-fatigue mats at your store's u-scan podium, please
contact your staff representative
and your health and safety committee.