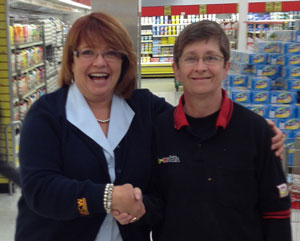 After four years working cash at Brian's No Frills, Brenda Foster was ready for change.
Eager to prove women could do the same job as men on the floor, UFCW Canada Local 1000A member Foster decided to take advantage of a new front-end training opportunity provision negotiated in the last No Frills collective agreement.
The union negotiated the right for part-time cashiers with four or more years of service to have the option of being transferred to another area of the store and receive relevant training. Members would be able to maintain their seniority and rate of pay and successfully complete their probationary period of 60 days.
"The issue grew out of people's desire to exercise their seniority to gain hours," said Kevin Benn, Local 1000A Executive Vice-President and lead negotiator for the No Frills negotiations.
For Foster, the job has meant more hours, reduced stress, and provided a way out of the financial difficulty she was facing.
"It has changed my life," said Foster, who passed her probation in January. She is now a full-time grocery clerk who works mainly in the dairy section stacking shelves, maintaining the area and putting away orders.
"I feel very blessed that the union got this done in the contract," said Foster, adding she is also now a more confident, knowledgeable and independent person.
Though Foster took some time getting used to the new job when she first started her probation, she credits her co-workers for providing morale support along the way.
"They encouraged me to keep going," said Foster, particularly thanking her co-worker Dave Wilson.
Local 1000A President Pearl Sawyer said she was proud to congratulate Brenda on her success in exercising her rights under the collective agreement.
"Brenda's story is truly an inspirational one," she said. "I am excited for her and for the women who will follow her lead."
Roland Lapins, Director of the No Frills sector for the local union, said he was pleased that Foster took advantage of the language the union negotiated in the collective agreement.
"I encourage our members to get as familiar as they can with their collective agreement and exercise their rights whenever they can."