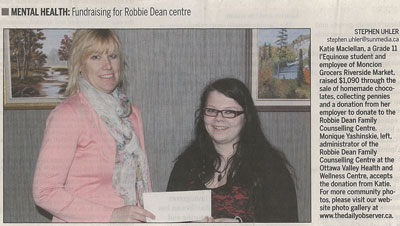 "Be the change that you wish to see in the world."
Those are the words that Katie Maclellan, a cashier at Riverside Market in Pembroke, kept close to her heart as she worked to raise $1,090 for the Robbie Dean Family Counselling Centre to help those suffering from mental health issues.
Utilizing her baking skills, Katie painstakingly created and sold more than 1,000 individual chocolate pieces with many in the shape of mustaches and lips. In addition, she collected pennies and also made a personal donation.
"My whole goal was to make a difference," Katie said. "One of the main reasons why I did it was to help people because I've been there too."
She encouraged those suffering from mental health issues to get involved in their community and to talk about what they are going through. "The important thing is to reach out for help because people do care," Katie said. "People have to remember that the stigma is not there anymore and that they should never be ashamed or afraid of asking for help."
Kathy White, a union steward at Riverside Market in Pembroke, commended Katie on her achievement. "We are very proud of her at the store," Kathy said.
The Canadian Mental Health Association has some statistics that illuminate how many Canadians are affected by mental health issues:
"It is estimated that 1 in 5 Canadians will develop a mental illness at some time in their lives.
Mental illness indirectly affects all Canadians at some time through a family member, friend or colleague.
Mental illness affects people of all ages, educational and income levels, and cultures."
It is estimated that 10-20% of Canadian youth are affected by a mental illness or disorder.
The total number of 12-19 year olds in Canada at risk for developing depression is a staggering 3.2 million."
For more information on mental health, please visit the Canadian Mental Health Association or Centre for Addiction and Mental Health.
If you have a Local 1000A member story you want to share, This email address is being protected from spambots. You need JavaScript enabled to view it.