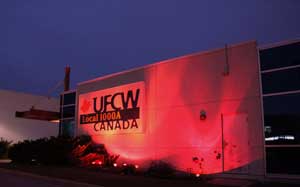 Twenty-five years ago, the lives of 14 young women were brutally cut short when a lone gunman entered their college, Ecole Polytechnique, and shot them dead. He wounded 14 others, including 10 women and four men.
In the midst of Marc Lepine's rampage, he screamed, "You're a bunch of feminists. I hate feminists."
The events of December 6, 1989 would come to be known as the Montreal Massacre. Today, December 6 is annually observed across Canada as the National Day of Remembrance and Action on Violence Against Women.
For the second straight year, members of Local 1000A's Women's Issues Network (WIN) made and distributed thousands of White Ribbons and cards to remember the victims of the Montreal Massacre. Their goal was to raise awareness and encourage action regarding the ongoing problem of violence against women in our society. They are also collecting and donating shoes for a memorial tribute at the UFCW Canada national office. The display will serve as a symbolic remembrance of all the women who have lost their lives to violence. Following this year's campaign, the shoes were donated to a Women's Shelter in Toronto. As part of the YWCA's Rose Campaign, UFCW Canada Local 1000A's building was also lit in red to draw attention for the need for action on violence against women.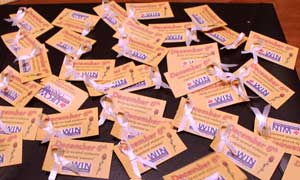 "Twenty-five years later, it is unacceptable that gender-based violence remains a reality for so many women across this country," said Pearl Sawyer, President of Local 1000A. "If we want to create a world free of gender-based violence, it is up to all of us, sisters and brothers, to come together and work together to make change happen. The statistics today do not need to be statistics of tomorrow—our daughters, sisters, wives, mothers, and friends deserve better than that."
The statistics are sobering. The Canadian Women's Foundation reports that "67% of all Canadians say they personally know at least one woman who has been sexually or physically assaulted." Every six days on average, the foundation notes that "a woman in Canada is killed by her intimate partner."
"Too many of us know someone whose life has been affected by violence against women," said Diana O'Brien, the coordinator of WIN. "We keep their voices and stories close to our hearts as we work to raise awareness and empower our sisters and brothers to take a stand against gender-based violence."