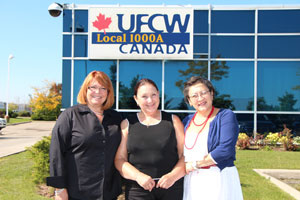 Angie Novosel loved working for Loblaws Great Food as a Natural Value Manager. For almost 13 years, Angie rarely missed a day.
"I was the most dedicated and loyal employee," Angie said. "I put my heart and soul into my job. I took every course. I did everything they wanted me to." Her dedication to the company was so evident that they had her do hiring as well as peer orientation.
On June 19, 2010, Angie's life changed in an instant when she slipped and fell at work.
It was a Saturday morning and as she walked in, she was paged by the store manager to receiving.
No one was on the floor and the Natural Value skids, she was told, had to be worked and removed from the receiving area. She headed to her department to check the schedule for a call in — the last image she remembers before her fall is a woman shopping with her toddler.
Slipping on a cluster of grapes on the floor, Angie flew through the air, landing hard on her side.
She remembers her co-workers trying to help her up and getting her upstairs. Even with the pain, Angie returned to work that day knowing how short staffed the store was and how much they needed her help.
She would later find out that she had suffered tears in both knees and a tear in her right shoulder—injuries that left her unable to work again.
"I never would have believed something like this could happen to me," said Angie, who underwent multiple surgeries, faced enormous pressure from the company, and struggles with Workplace Safety and Insurance Board (WSIB). The way she was treated left her suffering from Post Traumatic Stress Disorder.
Martha Villeda, Local 1000A's WSIB Lead and Health and Safety Back-up, fought hard for Angie at the WSIB.
"Thank God, I had a union," Angie said. "Martha and the staff went out of their way to help me and were compassionate. They were incredible in fighting hard for me."
As a result, Angie's claim was accepted and she received compensation from WSIB.
"It's David against Goliath," said Novosel. "When you have the union, you have wings to soar."