After four days of ratification meetings and polls across the province, members of UFCW Canada Local 1000A voted 57% to ratify an amended agreement with Loblaw Supermarkets Ltd. This means that the agreement was accepted by a majority of members who voted, so strike action scheduled for July 11 is cancelled.
More than 6,000 members voted, meaning voter turnout was slightly over 50 per cent.
"I want to thank each and everyone of you who participated in the ratification process for making your collective voices heard," said President Pearl Sawyer. "We saw a strong turnout across the province at various meetings and polls. However you voted, your participation is essential to building a better workplace and a stronger union."
The agreement will cover approximately 12,000 workers at 60 Loblaws Great Food and Superstore locations in Ontario. It takes effect on July 9, 2015.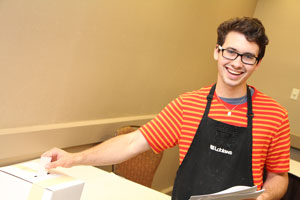 Some of the highlights of the agreement include:
Job assurances for full-time and part-time in a volatile retail industry
Prescription drug cards for all full-time and part-time who meet eligibility requirements
Protection of the defined benefit pension plan -- to preserve retirement security
Members' issues and concerns will be heard by company officials through the participation in a newly established relationship building program facilitated by the Ontario Ministry of Labour
Wage increases:

full-time clerks at the top rate will see over $12,700 (exclusive of any overtime pay) in new money over the term of the collective agreement.
full-time clerks in the wage progression at the 12 month rate in the wage scale will see almost $18,000 (exclusive of any overtime pay) in new money over the term of the collective agreement.
all department managers at top rate on their wage progression will see more than $15,000 in new money over the term of the collective agreement.;
part–time at the end rate, and in the 28 hour guarantee will see wage improvements of almost $7,000 (exclusive of hours worked beyond 28 hours) in new money over the term of the collective agreement.;
part-time in the wage progression and with over 300 hours worked will see immediate increases of $.05 up to $1.00 per hour; for those who do not get at least a $0.25 cent hourly increase by going on the new progression will receive an additional $100 in addition to the $350 lump sum;
many going onto the new part-time wage grid will receive $0.35, $0.50, $0.70, or $1 per hour increases AND all, even though they are making above minimum wage, will receive an additional $0.25 increase per hour when minimum wage goes up in October;
as members work more hours and move up the wage progression, they will see their gap increase above minimum wage. Past minimum wage increases were not applied to all workers in the wage progression which led to many workers with greater hours not being fairly compensated for their time with the company; This has now been rectified.
all part-time at the end rate are guaranteed a minimum gap above the minimum wage if for example minimum wage goes to $15/hour.
all part-time workers including those with the least hours worked, will receive $350 as an immediate bonus.

We have negotiated disincentives for the company to over-hire so workers have access to more hours through improved hour guarantees based on department size;
Scheduling tests will be implemented to in an attempt to reduce availability requirements and still have the company meet its commitment to our members for the various hours guarantees;
Improvements have also been negotiated for scheduling to be more worker-friendly to accommodate second job/school/family commitments
Full-time workers for the first time have an ability to opt out of being scheduled one evening per week for 12 week cycles up to 3 times per year and that their second night of work not be scheduled past 7PM;


Other gains include:
Non-discrimination clause amendments to include "sexual orientation, gender identity and gender expression";
New language covering zero tolerance for customer rudeness, impropriety and abuse that allows for workers to not be required to continue to serve a customer who has engaged in any of these behaviours.
New work for union members in the stores that have "Click & Collect" (Loblaws new e-commerce business);
Language on job assurance which helps provide disincentive for union work to be contracted out or done by a third party.
Renewed commitment by the company to pay equity maintenance.
Negotiations began in February 2015.
In May 2015, the membership voted 97 per cent in favour of a strike if a fair contract is not reached.
From June 14 to June 20, members voted to reject a tentative agreement with Loblaw Supermarkets Ltd. A strike deadline was set for July 5, 2015.
The strike deadline was postponed to July 11, 2015 as both parties returned to the negotiating table on July 2 at the request of an Ontario Ministry of Labour Mediation Officer. Two days of intensive negotiations resulted in an amended offer on July 3.
Members may request a copy of the amendments by emailing us at This email address is being protected from spambots. You need JavaScript enabled to view it.. These amendments are to be read with your expired collective agreement while the new collective agreement books are being produced. It's expected the new books will be available in the next few months.
Once again, your union thanks all of our members who participated throughout the negotiation and ratification process.