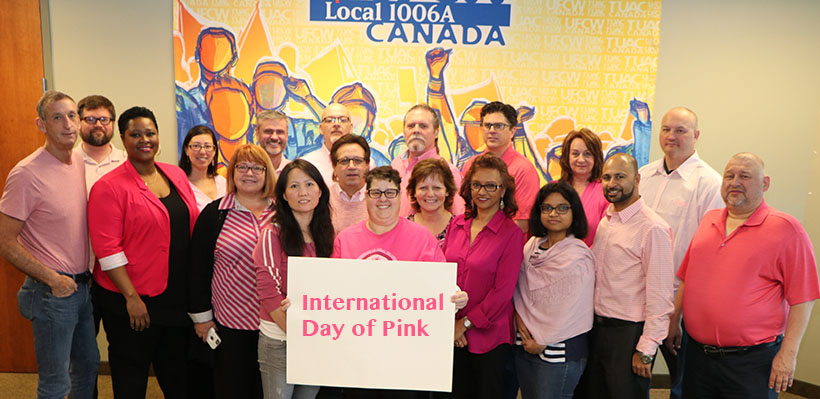 On April 12, join UFCW Canada Local 1006A in observing the International Day of Pink and taking a stand against bullying, homophobia, transphobia and transmisogyny.
Observed worldwide, the Day of Pink began in Canada in 2007 when two Grade 12 students witnessed a gay student being bullied for wearing pink and decided to take a stand. They organized students at their Halifax school to wear pink the next day in support and solidarity. Today, the Day of Pink is observed on the second Wednesday of April around the world by millions of people.
We have a long way to go to eliminating bullying. The Canadian Institute of Health Research reports that 1 in 3 students has been bullied. Youth, who identify as being part of the LGBTQ community, are three times more likely to be bullied than their heterosexual counterparts. EGALE Canada reports the effects of bullying are severe, with LGBTQ youth being four times more likely to attempt suicide compared to their heterosexual counterparts.
We, as a community, must do better. Everyone deserves to feel safe wether they are at school, at work or in the community. We must each do our part to stop bullying, homophobia, transphobia and transmisogyny when we encounter it. We must unite, as union members have always done, in our struggle to build more progressive and inclusive schools, communities, and workplaces for all.
WHAT CAN YOU DO?
· Join your union in wearing a pink shirt on April 12.
· Tell your friends and family why you are wearing pink and share your photo on social media. (#ufcw1006a #dayofpink)
· Spread and practice the message of inclusion and diversity in your community by being an ally.
In Solidarity,
Wayne Hanley, President, UFCW Canada Local 1006A