Loblaw Companies Ltd has announced it will convert 10 Loblaws stores in Ottawa, Kingston and Lindsay to the Great Food banner.
These are the first conversions announced this year since the company unveiled its plan at negotiations last year to convert all Loblaws stores.
For the union, nothing is more important than protecting and improving life for members and their families. That is why we fought hard during negotiations and ensured five options were negotiated to secure members' livelihoods as they transitioned to the Great Food banner. These options were part of the memorandum of settlement which was voted on by members last fall.
So far, union representatives have been at all general meetings held in Ottawa, Kingston and Lindsay to answer any questions members have in making this important decision.
Furthermore, a union representative will also be present to help members at one-on-one meetings with the company where they are advised of their options. Do not hesitate to talk to your union representative about any questions or concerns you may have. They are there to help you through the company's conversion process.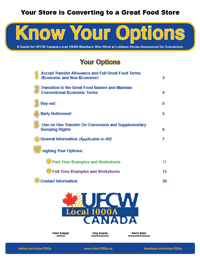 To read more about your options, please click here. (PDF of Options Document).
List of Stores Announced For Conversion
Kingston
Loblaws #1040 Princess St, Kingston (Date of Conversion- August 14, 2011)
Loblaws #1083 Midland Ave, Kingston (Date of Conversion- August 14, 2011)
Lindsay
Loblaws #1022 Kent St, Lindsay (Date of Conversion- August 28, 2011)
Ottawa
Loblaws #1014 McArthur Ave, Ottawa (Date of Conversion- September 25, 2011)
Loblaws #1095 Isabella St, Ottawa (Date of Conversion- October 2, 2011)
Loblaws #1200 St Laurent Blvd, Ottawa (Date of Conversion- October 2, 2011)
Loblaws #1132 Carling Ave, Ottawa (Date of Conversion- October 9, 2011)
Loblaws #1188 Bank St, Ottawa (Date of Conversion- October 9, 2011)
Loblaws #1114 Earl Gray Dr, Kanata (Date of Conversion- October 16, 2011)
Loblaws #1170 Rideau St, Ottawa (Date of Conversion- October 16, 2011)