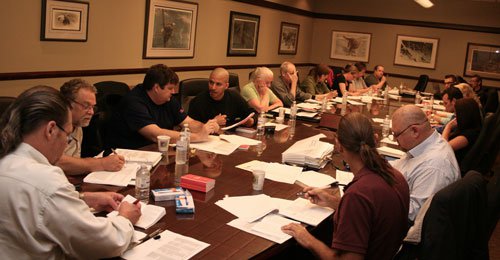 Members of the Local 1000A No Frills Bargaining Committee met on May 25, 2011 to discuss and vote on proposals to take into negotiations, which will kick off June 21, 2011.

The committee is made of Local 1000A members from No Frill and Valu-Mart stores across Ontario, along with Local 1000A staff members. Executive Vice-President Kevin Benn will be chairing the union's negotiations team.
"It is a great experience, you get to see where everything starts from, before it goes to the bargaining table," said Janice Redshaw, a first-time bargaining committee member who works at Listro's No Frills in Markham.

Patricia Leggett, who works at Gus' No Frills in Scarborough and a third-time bargaining committee member, said it was good to meet all the new people on the committee.

"We are hoping for a fair contract all around for everyone," Leggett said.