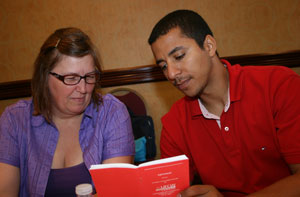 Local 1000A's No Frills Bargaining Committee has requested the appointment of a conciliation officer to assist at upcoming meetings. In the meantime, the committee met with company officials on July 26 and July 27 and previously on July 14 and July 15.
Additional meetings have been scheduled for August 16 and 17, and then, August 23 and 24.
Previously, both parties had exchanged proposals on June 21 and the bargaining committee met on June 22.
The Local 1000A bargaining committee is made of members from No Frills stores across Ontario, along with local union staff members. Executive Vice-President Kevin Benn is chairing the union's negotiations team.

Local 1000A Bargaining Committee Members
Kevin Benn, Local 1000A Executive Vice-President
Roland Lapins, Local 1000A Director of No Frills Sector
Gary Brown, Local 1000A Staff Representative
Tony Agostini, Local 1000A Staff Representative
Kevin Bacon, Local 1000A Servicing Staff Representative
Andy Rostoks, Valu-Mart (Guildwood Pky, Scarborough)
Pat Leggett, Gus' No Frills (Tapscott Rd, Scarborough)
Lorrie Russell, Joe's No Frills (Dufferin St, Toronto)
Diane Wilmot, Stephen's No Frills (Brimley Rd, Scarborough)
Wayne McGowan, Henderickx's No Frills (Place d'Orléans Drive, Orleans)

Audrey Anderson, Ken's No Frills (Lansdowne St., Peterborough)
Laura-Lee Robineau, Paul's No Frills (Riverside Dr., Timmins)
Janice Redshaw, Listro's No Frills (Markham Rd, Markham)
Darryl Filo, Larry & Pat's No Frills (Lincoln St. E, Welland)
Jimi Reyes, Danny's No Frills (Main Street E., Hamilton)
Ahmed Gaied, Nick's No Frills (Sheppard Avenue, Scarborough)
Linda Makra, Victor's No Frills (Warwick Dr, Wallaceburg)
Matthew Shepley, Brian's No Frills, (Highbury Rd., London)
Sara Batters, Joe's No Frills (Wellington St., Barrie)
Letty Naven, Marc's No Frills (Bell Blvd, Belleville)