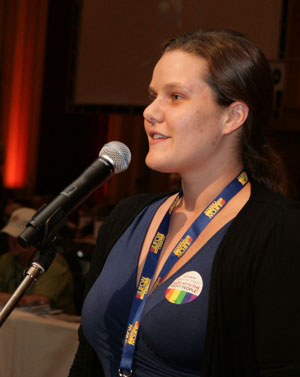 Longtime Local 1000A activist Amanda Atwell has been elected OFL Vice-President, Workers Under 30. Atwell, a steward at a Great Food store in Ottawa, was elected on November 23, 2011 by OFL delegates under 30.
"On behalf of Local 1000A, I am pleased to congratulate Amanda on her achievement," said Local 1000A President Pearl Sawyer, who endorsed Atwell for the position. "Amanda's tireless dedication to workers as a steward, organizer, and labour activist shows that she will be an excellent representative for 'Workers Under 30' at the OFL."
Atwell said it is critical, more than ever before, to reach out to young workers.
"I want to thank my union for supporting me in this campaign, and I also want to thank all the young workers who came out and participated in the election process," she said. "With union density declining across Canada, we have a lot of work to do to inform and engage young people not only in our workplaces but beyond."
Congratulations to former Local 1000A member and UFCW Canada national staff representative Pablo Godoy for his election as OFL Vice-President, Workers of Colour.
Quick Facts about Amanda
A proven Youth Leader for Canada's largest private-sector union and the Ontario labour movement
A Union Organizer who empowers workers in youth dominated industries
A Proud UFCW Canada Local 1000A Member for over 11 years
A Student Activist at Queen's University
A Dedicated New Democrat and Proven Campaign Manager
A Strong choice for a Unified Future and Defending the Next Generation