Two days of intensive negotiations between your union and Loblaw Companies Ltd resulted today in amendments to the memorandum of agreement dated June 2, 2015.
Both parties had returned to the negotiating table at the request of an Ontario Ministry of Labour Mediation Officer on July 2.
Your union believes it's important for our members to have the opportunity to examine and vote on the amended offer and as such, has postponed the strike deadline of Sunday, July 5 at 12:01 a.m.
Should this amended offer be rejected, the strike will commence on Saturday, July 11 at 12:01 a.m. at all 60 Local 1000A Loblaws Great Food and Superstore locations across the province.
Ratification votes and related polls are being scheduled across the province from Sunday, July 5 to Wednesday, July 8.
See below for the schedule of meetings and polls.
Please check with your store for your schedule of work for the upcoming week commencing Sunday.
The company and the union are restricted from public comments at the request of a provincially appointed mediator.
Presentation of the Amended Memorandum of Agreement and Ratification Vote Schedule
For your convenience, and to give members who require more time to review the offer, polling dates have been scheduled for the day following the ratification meetings. Please plan to attend the meeting for your area.
MEETINGS:
There will be two formal presentations of the Amended Memorandum of Agreement. The first presentation will start at 10:00AM and the second will start at 7:00PM.
On meeting dates, voting will take place from 10:30AM – 6:30PM and from 7:30PM until 10:00PM.
POLLS:
Polls are voting stations only. There will be no presentation of the Amended Memorandum of Agreement on Poll dates.
On polling dates, voting will take place from 9:30AM to 8:00PM.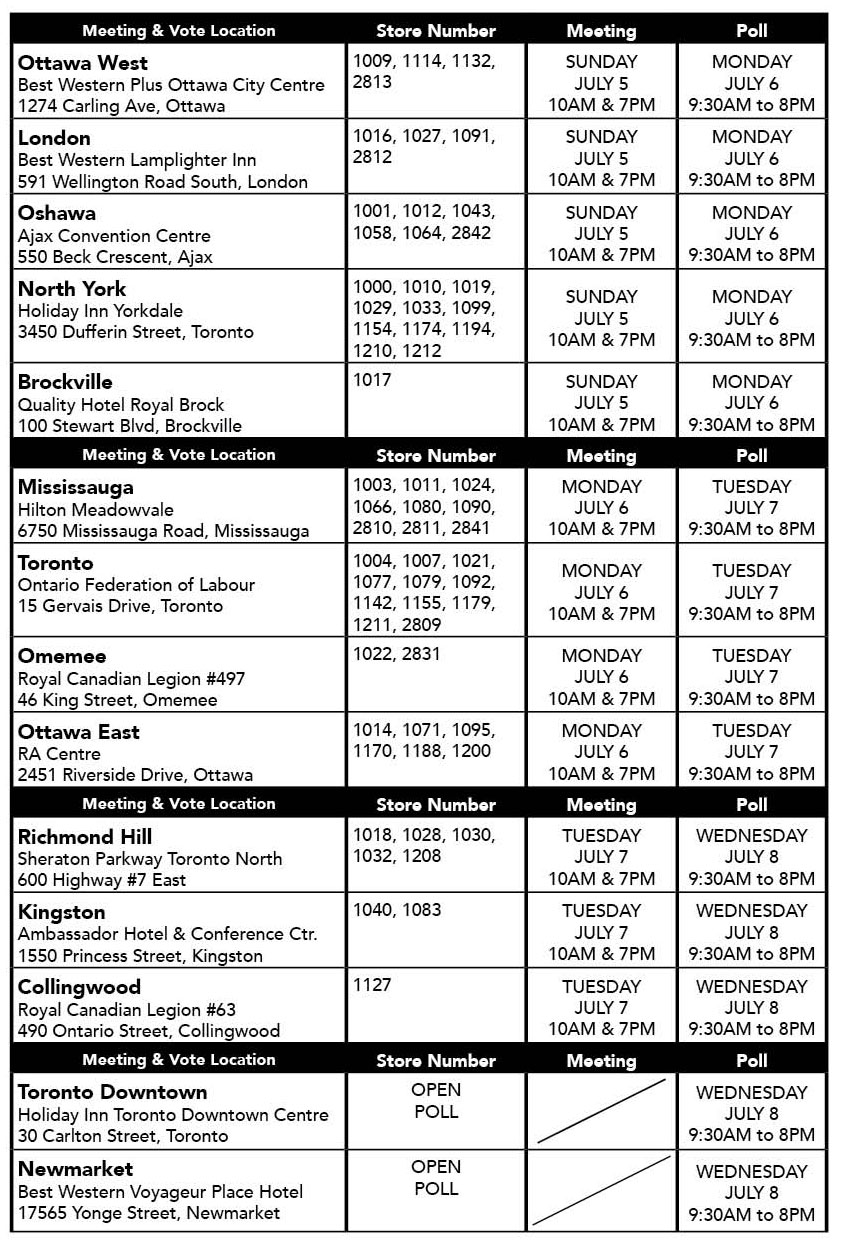 DOWNLOAD PDF OF UPDATE AND MEETING SCHEDULE