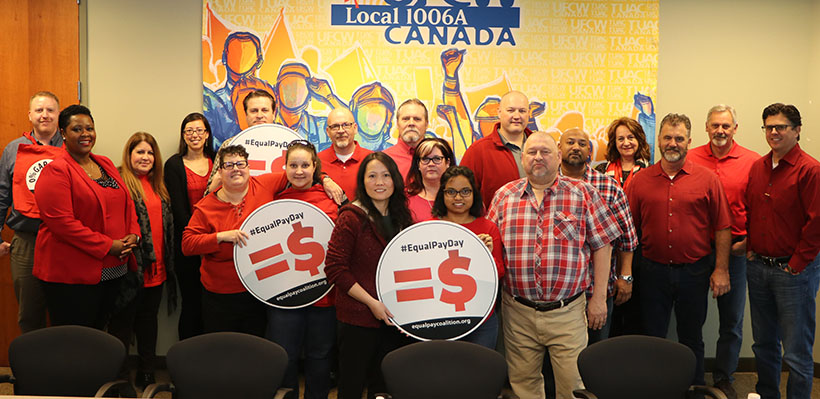 Equal Pay Day, which falls on April 11 this year, is a stark reminder of how far we as a society have to go before we truly achieve gender equality.
The Ontario Equal Pay Coalition reports women, on average, have to work until April 11, 2017 to earn what a man did in 2016. In other words, a woman has to work 15 ½ months to earn what a man makes in 12 months. With women increasingly becoming the breadwinners within their families, the persistent pay gap has a profound impact on the financial security of workers and their families and the overall prosperity of our economy.
The Coalition reports the Women, who work at non-unionized workplaces, earn 31.5 per cent less than men based on average annual earnings. The pay gap is even greater for women who are racialized, indigenous, immigrant, migrant, LGBTQ or have disabilities.
Women's earnings are affected by a variety of factors, including underemployment in part-time jobs, lack of affordable childcare, overrepresentation in minimum wage jobs and barriers to unionization.
We, as a society, have to do better. Eliminating the gender pay gap is about standing up for equality and fairness for all and we need to raise awareness and take action where and when we can. When women prosper, so do their families and their communities.
Removing the barriers to unionization is one of the main keys to eliminating the gender pay gap.
Prior to 1995, Ontario workers could join a union by simply signing a union card—a process known as card check certification. A workplace became unionized if 60 per cent of the workers signed a union card. In 1995, the Conservative government of Mike Harris attacked workers' rights by making it more difficult to join a union. The introduction of a ballot system provided employers with the advantage and increased opportunity to divide workers and prevent unionization.
By restoring card check, we will create a more equal Ontario which works for more workers. The Canadian Labour Congress reports women with union representation earn $6.65 per hour more than women without unions. The union advantage is clear.
UFCW Canada is running a campaign to Close the Gap and I strongly encourage our members and allies to participate by sending a message to your MPPs . Together, let us fight for fairness and create an Ontario where our sisters, daughters, mothers, and friends can thrive.
In Solidarity,
Wayne E. Hanley
President, UFCW Canada Local 1006A