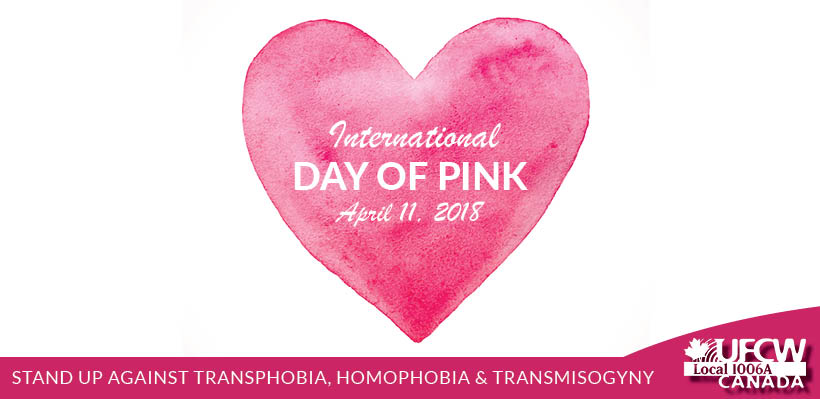 Join your union on the International Day of Pink as we come together to take a stand against bullying, homophobia, transphobia and transmisogyny.
Approximately 75 per cent of Canada's LGBTIQ2S community say they have been bullied, according to CBC News. About 40 per cent of those affected said the discrimination happened at work.
A high majority, 81 per cent, reported feeling "distress, loneliness, isolation, or discouragement because of their sexual orientation or gender identity."
On this Day of Pink, we want all our members who belong to the LGBTIQ2S community to know they are not alone and their union is there to support them.
Your union is home to 1006OUTreach, which works to raise awareness and educate the larger membership and the public about the issues which affect the LGBTIQ2S community. We are united by our struggle to help eliminate discrimination and prejudice in our communities.
Every year, we participate in parades, events and initiatives across Ontario to show our pride and to let our members know we are in their corner. If you ever feel bullied or discriminated at work because of your sexual orientation, do not hesitate to contact your union representative.
The history of the International Day of Pink dates back to 2007 when two Grade 12 students at a Canadian school witnessed a gay student being bullied for wearing pink and decided to take a stand. They organized students at their Halifax school to wear pink the next day in support and solidarity. Today, the Day of Pink is observed on the second Wednesday of April around the world by millions of people.
Everyone deserves to feel safe. On this International Day of Pink, join your union and do your part to raise awareness and stop bullying, homophobia, transphobia and transmisogyny. Wear a pink shirt and share your photo on social media (#dayofpink). Together, let us work to build a world of equality and fairness for all.
In Solidarity,
Wayne Hanley