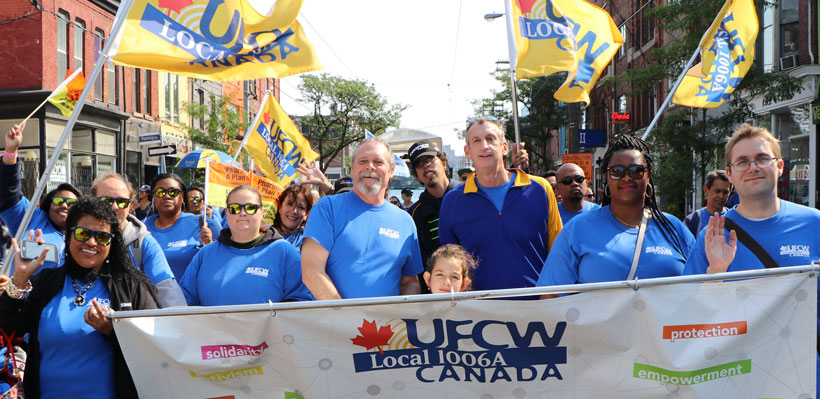 On behalf of the staff and officers of 1006A, I'd like to wish you a Happy Labour Day.
In the midst of COVID-19, Labour Day will look different this year as we celebrate virtually from coast to coast to coast.
Though we may not meet in person, I hope you to take the time to reflect on the power workers have to create change at work and in communities.
For generations, workers and their unions have come together to advocate for fairness, equality and justice. Step by step, they did their part to build fairer workplaces and communities in the face of adversity. When companies pushed back, they stood strong. When governments rolled back progress, they kept fighting. Today as always, we continue the struggle to build a more just world for all Canadians, remembering that when workers are united and committed, we can transform our workplaces, cities and country.
Currently, workers face uncertain times in the midst of the COVID-19 crisis. Our union is proud to have advocated for strong health and safety standards to protect our members, from the onset of the pandemic, from pushing for masks at workplaces to protective shields for transit drivers to advocating for pandemic pay. We have taken our advocacy to the Workers Safety and Insurance Board, standing up for members who contract COVID-19 and ensuring they get the benefits they deserve.
Thousands of UFCW members across the country bravely worked through the crisis. I'm so proud of the work that you do to serve your communities. Your union is working hard to ensure that your employers and governments don't forget.
At the provincial and federal levels, we continue to lobby for paid sick days, the continuation of pandemic pay, and for retraining programs and opportunities for members whose jobs and hours have been cut.
While your union is working hard to protect and improve your rights and livelihoods, we cannot do it alone. We need you to be part of this movement to create change. I encourage you to become more active within your union, whether it's simply connecting with your union reps and stewards, or applying for scholarships or taking webCampus courses. Be active in promoting workers' rights, by advocating regularly to your MPPs and MPs and having conversations with your friends and neighbours. Help us build this movement to make life better for working families.
This Labour Day, we are proud to profile the stories of some of our great activists who are working hard to create change. I also encourage you to check out the online Toronto York Region Labour Council celebrations.
Finally, I hope you and your loved ones stay safe during these trying times. As always, your union is here for you.
In Solidarity,
Wayne Hanley
PS. We know this is a difficult time for many members and their families. UFCW Canada has some great online mental health resources – check them out here.