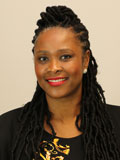 Glacier Effs-Samuel
Recorder
This email address is being protected from spambots. You need JavaScript enabled to view it.
905-850-4332
Glacier's history with the local union dates back to 1994 when she began working as a cashier for a Loblaws store in Mississauga. Driven by the need to help others, Glacier's activism with the union grew as she became a steward, a member of Women's Issues Network, and an instructor for the local union.
While working as a bookkeeper at Oakville's Loblaws Real Canadian Superstore, Glacier was elected to the Loblaws GFS/RCSS – Toronto Division multiple times, first as Secretary-Treasurer and twice as President.
In 2013, Glacier joined the Executive Board of the local union as Recorder.
In addition to this role, Glacier works in the Education & Training Department of Local 1006A. She is also the coordinator of the Women's Issues Network.
Effective May 1, 2016, Glacier is the Recorder of UFCW Canada Local 1006A.