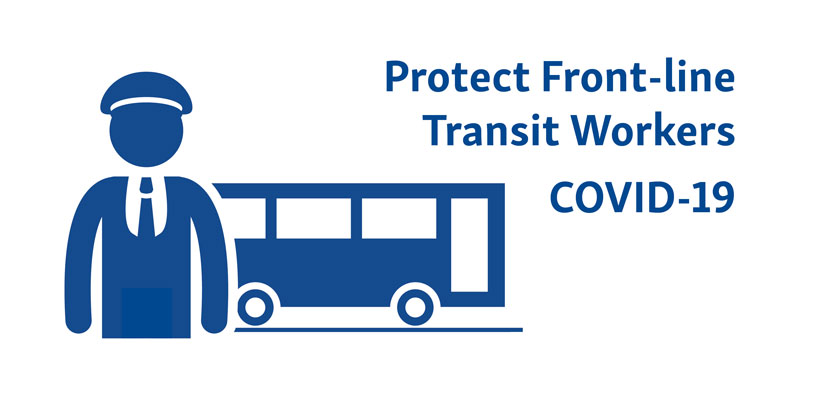 UPDATE: Your union is pleased that we were able to move York Region to change their position. They now will allow workers to wear masks on the job. Local 1006A continues to advocate for the masks to be supplied by the employer. Stay tuned!
Below is our letter we sent calling for better protections for transit workers, addressed to Wayne Emmerson, York Region Chairman and CEO and York Regional Councillors.
________________
Dear Mr. Emmerson,
UFCW Canada Local 1006A is proud to represent thousands of drivers across York Region, who work for Miller Transit, Tok Transit, and Tok Viva. Our members serve the residents of Markham, Richmond Hill, Vaughan and Newmarket.
Transit drivers are front-line workers, helping serve the vital transportation needs of York Region citizens during this pandemic. During this difficult and uncertain time, transit drivers are vital in ensuring those who have to travel are able to do so safely.
We are urging York Region to protect the health and safety of transit drivers, who interact daily with residents across York Region, by supplying the necessary masks and gloves to the drivers to ensure the safety of transit drivers, their families and the greater public.
The Union is extremely disappointed in the position and direction being shown by York Region concerning this issue. Using basic protections like masks and gloves will help combat the possible transmission of COVID -19 as recent research now shows that the virus can live airborne.
PDF of our Letter to York Region Officials
York Region can help limit the transmission of COVID-19 by ensuring transit drivers have access to gloves and masks on the job. Putting transit drivers at risk puts the public at risk.
The Union has decided it must take a leadership role on this issue. Therefore, we are strongly recommending to our members that they should wear masks and gloves while working, if they are able to obtain them.
Flattening the curve on COVID-19 takes all of us working together. Workers, who have high levels of exposure to the public, need to be protected to ensure everyone's safety.
Yours truly,
Frank Ragni
Executive Assistant to the President
UFCW Canada Local 1006A
PDF of our Letter to York Region Officials