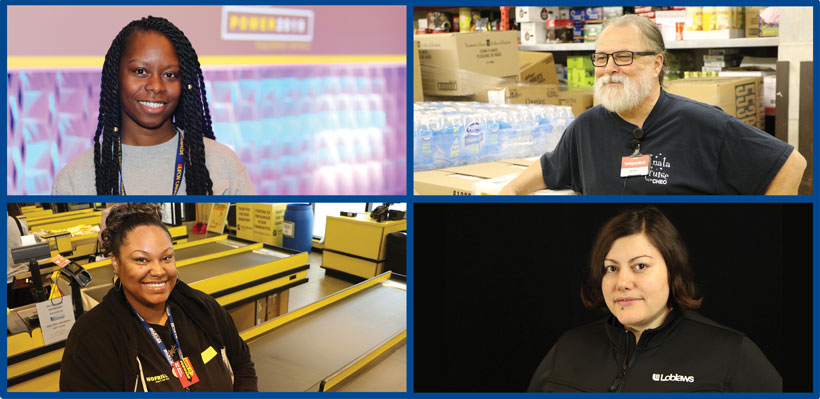 As a cashier at No Frills, Natasha Grey is now working on the frontlines during the battle against COVID-19, helping put food on the table for Ontario's families.
"I never thought in a million years that we would be such a vital role in these difficult times," said Grey. "It has been hectic, frustrating and difficult. Just as the customers are worried, so are we, but we are out there supporting our communities."
Grey is among the 25,000 local union members who are working at Loblaw Great Food, Superstore, No Frills, Valu-Mart and Your Independent Grocer stores during the pandemic. 1006A also represents members in food processing, warehousing, and transport. Together, these workers are the unseen and often unappreciated backbone of Ontario's food sector and economy. While COVID-19 has made it clear how vital food sector workers are, being declared essential workers during the pandemic comes with its own challenges.
1006A spoke to four grocery workers and stewards who provide insight and advice about life on the frontlines. ­­­­­
Navigating a Changed World
From long-hours, to fears of COVID-19 exposure, to having to deal with inconsiderate customers, life at the stores has rapidly changed since the pandemic struck.
"It has been difficult to say the least working long hours at the store and seeing the concerns and fears in the eyes of my coworkers and our members," said Gord Knowles, who works as a receiver at a Your Independent Grocery in Ottawa. "I'm trying to stay strong not only for myself but for our members as well."
Josie Barberi, who works in Deli department at Loblaw Great Food, said working during the pandemic has taken a toll on workers' physical and mental health.
"I have been incredibly overwhelmed and exhausted from working long hours," said Barberi. "Between management not doing enough to support our members and shoppers fearfully coming in droves to hoard in a complete panic, it has been tough to try and stay afloat and keep a clear head amidst this chaos."
Having supportive co-workers and union representation is making a huge difference, Barberi said.
"If it weren't for my colleagues, I'm not so sure I would be coping at all," she said. "My union reps and health and safety reps have been incredibly supportive and helpful."
Union Advocacy During COVID-19
Since the pandemic struck, Local 1006A has been pushing for greater protections and compensation for our members in the grocery sector. Union reps have seen a rapid increase in the number of calls from concerned members. Through discussions with employers, premium pandemic pay has been achieved, plexiglass installed at the front-end for cashiers, physical distancing instituted, handwashing stations introduced and store limits imposed.
From the beginning, the union called for gloves and masks for all workers, which are now increasingly available. In addition to employers, 1006A is lobbying municipal and provincial governments to take urgent and increased action to protect front-line workers.
"Our members are our number one priority and we are doing everything we can to ensure they are protected," said President Wayne Hanley. "The pandemic has meant life has become much more difficult and uncertain for many of our members and their families, and we are with them to help them through the challenges they face."
President Hanley said the challenges posed by the pandemic are new and evolving, and encourages all members to contact their union representative to inform them about issues and concerns at their store. Weblink to contact union rep.
Members say they are grateful for the support the union has provided during the pandemic.
"The advice and open communication during this time from our reps and union is amazing and I thank you so much for being such a great union," said Grey.
Members Urge Shoppers to Help Flatten the Curve
Increased exposure to the public means grocery workers are at a greater risk of contracting COVID-19. Currently, no screening process exists to prevent shoppers who are sick or in quarantine from entering the stores. That's why workers say it is vital for customers to do their part to help prevent the spread, by shopping once a week, limiting their time in the store, and respecting social distancing guidelines.
"The healthcare sector has a screening process to enter the hospitals whereas a grocery store does not," said Valrie Francis, who works front-end at a Real Canadian Superstore. "When you are shopping at a grocery store, remember the workers also have loved ones they want to keep healthy and are taking a chance coming to work to serve you in order to ensure you have the essentials to survive."
Working during the pandemic has meant longer line-ups, longer hours and more questions about the sufficiency of health and safety precautions to protect workers, Francis said. At her store, Francis, like others, has noticed the same customers coming in every day and wandering around. While many are getting the message about COVID-19 precautions, she said some customers are not.
"We are all dealing with the effects of COVID-19 and everybody's cooperation would be greatly appreciated – we have the responsibility to listen and follow the guidelines of physical distancing, leaving your house only when necessary, and allowing seniors to shop in the designated timespan."
Grey said everyone deserves to be safe: the workers, the customers and the public.
"Some customers do not respect physical distancing, still cough without covering their mouths, physically touch you to get your attention, even when you back away, they follow you or are fighting in the line-ups," she said. "My message to customers is respect physical distancing and respect all the workers out there who have been deemed essential."
Barberi is urging customers to remember that we are all in this together.
"Please show kindness and compassion to one another, especially to the workers who are working incredibly long hours under incredibly stressful conditions," she said. "Please don't hoard products – leave some for others. Please only touch the product you're going to buy and do not throw your gloves and other garbage on the floor."
While it is understandable that people are bored and tired of being cooped up, workers are asking customers to come one at a time, if possible, and shop for their essentials for the week.
"Don't stroll around the store as if it's an afternoon walk in the park with your entire family – be mindful of others, especially us workers who are trying to do our jobs and stay safe. We certainly do understand the difficulty this may pose for single parents, but others need to keep this in mind," Barberi said.
Grocery Sector Workers Recognized as Frontline Heroes
The growing recognition of the vital role grocery workers play has helped boost morale for members.
Since the pandemic began, Local 1006A and UFCW Canada have run social media and print media campaigns thanking grocery workers and raising awareness in the general public about the vital work our members do across Ontario and Canada.
"We as grocery workers are an essential service to our communities and for us to help our communities is such a blessing," said Grey. "We are not recognized – some customers feel it is our job to be out here during COVID-19 so it is so nice to hear a customer say, 'thank you,' for putting ourselves out here day in and day out."
"All Canadians should realize the incredible and vital role our members continue to play to help our communities through this pandemic," said President Hanley. "We encourage customers to thank our members and show them appreciation and respect for their hard work."
Return to a New Normal
Once this is over, workers like Barberi hope that the public remembers the valuable work they performed for their communities.
"I know we are using the word "Heroes" for our grocery workers right now and I appreciate the sentiment very much but the reality is, when this is all said and done, grocery workers and blue collar workers in general, will still be viewed as less than," Barberi said. "It's apparent in the way that we are still being treated by many customers despite the fact that we are putting ourselves on the line to make sure people are being fed and getting their essential needs."
Knowles said the valuable role grocery workers play should be acknowledged and valued.
"What I have to say about the essential role of all grocery store workers is that the company and customers should start to see us as very hard working and dedicated workers who need to be rewarded with a decent living wage. We should be recognized as skilled workers who do their best not just in these difficult times, but at all times," said Knowles.
As for Francis, she feels grateful and blessed to provide an important service to the public – an experience she describes as rewarding.
"Grocery store workers are usually discredited, undervalued, mistreated or overlooked in society," Francis said. "Currently more individuals are starting to realize grocery store workers are essential workers that are on the frontlines. Once the pandemic of COVID-19 is gone and it starts to feel like normal again, remember that grocery store worker you had an encounter with was one of the main reasons why we were able to get through it together."