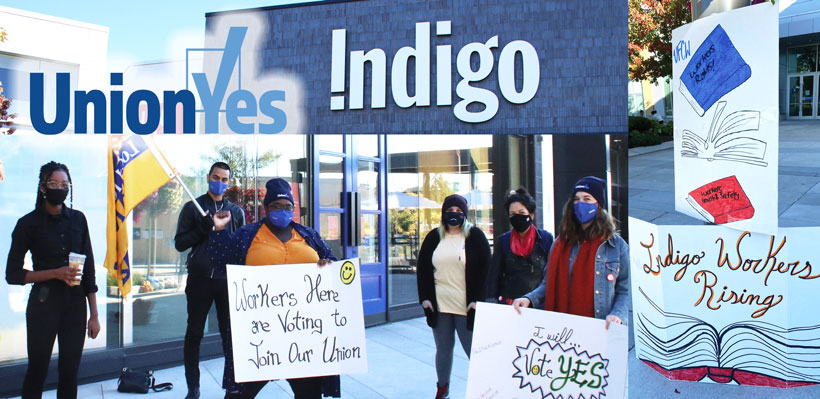 UFCW Canada Local 1006A is proud to congratulate Indigo workers at Square One in Mississauga on their campaign to win union representation.
The workers were supported by authors, community leaders, and shoppers, who encouraged them through social media with their unionization effort.
"We are just trying to create a fairer workplace and better working conditions for everyone here at the store," said Jennifer, an Indigo worker.
"The success we had today makes me hopeful – the employees at Indigo Square One have shown they are willing and ready to put in the effort needed to create a work environment where everyone is valued."
The workers drew support from authors, Zoe Whittall and Naomi Klein. Community leaders Olivia Chow, Matthew Green, Libby Davies, Jamie West and Jill Andrew also showed their solidarity and support on social media.
"The unity and determination of the Indigo workers inspired many Canadians," said President Wayne Hanley. "The workers saw an outpouring of support from across the country, from writers, activists and community leaders. We are so proud and excited to welcome our new members from Indigo and look forward to working with them on this next chapter with 1006A."
Lesley Prince, Local 1006A's Director of Organizing, congratulated workers on their campaign.
"The workers were incredible in coming together for fairness and respect," said Prince. "They led this campaign from beginning to end, with passion, creativity and commitment."
The next step is negotiating a strong union contract that addresses the concerns of the approximately 40 workers at this location.
"I would like the workplace to be fairer and create a safer environment for everyone to work," said Janna, an Indigo worker. "We are like an extended family at the store, and it is a great experience because of the employees but we could use better working conditions."
UFCW would like to thank the many labour and community members who stopped by the store to share their support.
"I am proud to be part of a union that will provide us with a powerful collective voice to communicate our needs to management," said Jennifer.
Workers interested in joining our union can connect with us confidentially here.
Lots of writers are booksellers or former booksellers, let's show our support for Indigo Square One employees who are fighting to start a union. #donttakeawaymyheatherspickstickerthoughpls https://t.co/wLE16oWEdn

— Zoe Whittall (@zoewhittall) September 18, 2020